Glitter, Gunfire and ... Mardi Gras?: Cynthia Eden Schools Us on Carnivale — With Giveaway!
Mon, 09/16/2013 - 11:11am — admin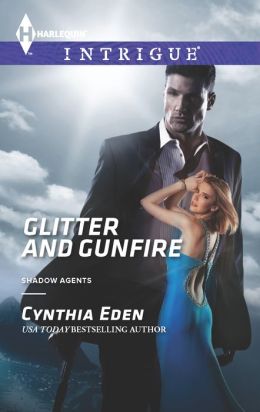 With a title like Glitter and Gunfire and a Top Pick! review that promises "nonstop action and sizzling romance," how could we not want to hear more from Harlequin Intrigue author Cynthia Eden? Plus, we can't lie, we've got New Orleans on the brain with the 2014 RT Convention coming up.  (What? May isn't that far away). Today she's here to regale us with a story of yes, glitter and gunfire, but also ballrooms, parades and pagentry. We've also got a giveaway, details below. Take it away, Cynthia!
I'm a southern girl, from Mobile, Alabama, and I've been in my share of ballrooms. Those glittering, glorious ballrooms, filled with ladies in gorgeous gowns and men in elegant tuxedos. In Glitter and Gunfire, my hero and heroine meet in a ballroom. She's wearing her perfect dress, and, my hero — well, he's an undercover agent in a tux. The characters are thrust together during the height of Rio's Carnival, and the pageantry of the celebration is the backdrop for them.
Now, while I've never had the pleasure of attending Carnival in Rio, I have been to a few my fair share of Mardi Gras celebrations. Because what many folks don't realize is that when it comes to Mardi Gras in the U.S., my hometown of Mobile is the city that likes to claim the honor of having the first Mardi Gras parade. (CNN's even gotten in on the inaugrual Mardi Gras debate).
Mobilians take the celebration very seriously. In my city, there are Mardi Gras courts. There are months of prep work involved in the parade float building, and, of course, there is the revelry. Parties, balls, fun events that last long into the night. 
When the parades occur, it's quite common to see women walking down the streets, wearing their glittering gowns. Those women are right beside the kids who are screaming for moon pies. (My son has a particularly strong screaming voice!) The atmosphere is great, very relaxed — and conducive to a fantastic party.
My Mobile tradition was definitely the inspiration that drove Glitter and Gunfire's story.  For now, I'll keep enjoying my local Mardi Gras moments. But one day … maybe I will make it down to Rio for Carnival!
(Until then, I'll just keep eating my moon pies!)  
- Cynthia Eden
We know, now you want a moon pie and to go to a ball in a glittering gown (we'll take a pass on the gunfire). Glitter and Gunfire is available now, to partake vicariously. And we've got five copies to give away — print or digital, your choice! Comment below with your favorite Mardi Gras tradition for a chance to win (U.S. residents only for print copies.) And for more romance news you can use, be sure to visit our Everything Romance page!