Go Behind The Scenes Of Liz Carlyle's Latest Historical Romance
Tue, 09/28/2010 - 5:01pm — admin
Historical romance author Liz Carlyle's new novel, One Touch of Scandal, blends ancient magic, a heroine framed for murder and undeniable passion. In this exclusive interview, discover how the author researched the novel's Indian influences, peek into the minds of the lead characters and learn Carlyle's rule of thumb for measuring if a relationship will stand the test of time. And don't miss your chance to "comment for a cause" at the end of this post to help Avon and Liz Carlyle support the charity Cat Angels!
RT: In One Touch of Scandal there is a lot going on. High society, murder, mind reading. Is it possible for you to describe the plot for readers in, say, 10 words or less?
Liz Carlyle: I take up the gauntlet with trepidation: Hot, hypnotic hero saves his soul mate from the clutches of evil. Okay, that's 12 words, but some of them are really small.
RT: Both your heroine and hero have unconventional backgrounds. Grace grew up in North Africa and Ruthveyn was raised in India. What made you choose such exotic locals for your characters' back stories?
LC: To me, the mid-Victorian years were such an exciting time in European history; a time of travel and scientific discovery and almost unfathomable wealth—the beginning of Empire, if you will. London was on the cusp of becoming the culturally rich melting pot we know today. I just wanted this series to reflect that melting pot, and to show that aristocratic life was—or at least could be—so much more than balls and theater and house parties. But with the hot, hunky, hypnotic hero, of course.
RT: You incorporate a lot of Indian myth and legend into One Touch of Scandal including mention of the Upanishads an ancient Eastern religious text. What kind of research did you conduct in order to weave in these unusual elements?
LC: Well, first I went round London eating in all the very best Indian restaurants. I told myself I was absorbing ambience, but alas, it was mostly just Butter Chicken. In all seriousness, I did a tremendous amount of reading and researching, and even then, the reader sees only hints of it in the book. I'd been thinking about this series for several years, and soaking up bits and pieces from books and museums for a long while—there's lots of inspiration to be had in places like the British Museum. But in the end, after all my research, a couple of Indian acquaintances read behind me extensively, and I was profoundly grateful.
RT: Your hero has what is referred to in the story as a "Gift". Without giving too much away, what can you tell readers who have not read the book about Ruthveyn's talents?
LC: I think the most important point is that Ruthveyn doesn't consider them talents, and certainly not gifts. He is perhaps the most dark and tortured hero I've done in a while. 
RT: The governess heroine is a character that historical romance readers have seen before. What makes your character Grace so special especially when paired with her extraordinary hero?
LC: I think that Grace has a lot of fire and passion. She doesn't have any deep, dark secrets in her closet, but she is very much alone now that her parents are dead. Grace's dreams have become very simple; she longs for a family again. For hearth and home and yes, a husband. Unlike some romance heroines, Grace doesn't aspire to be wealthy or to succeed in some particular field or career, nor has she any wish to be a part of high society. She's straightforward and sensible, and she just wants an ordinary life—and in that wish, I think most of us can see a part of ourselves.
RT: Perhaps my favorite line in the story is when Grace tells Ruthveyn, "Love that is love only when things are right and easy and everything tumbles into place is just not enough for me." I absolutely love the sentiment here. Can you describe to your fans when you, as the author, know that love is right for your characters?
Liz Carlyle: That's a very Grace-like quote, so I'm glad you chose it. I tend to write characters that find love by completing one another, and I shy away from the fight-and-make-up school of romance—not that that doesn't work for me as a reader. But as a writer, I want a couple who comes together because they learn—sometimes slowly, sometimes quickly—that they are stronger together than they are apart. And when you find that, in real life or in fiction, it just feels like magic to me.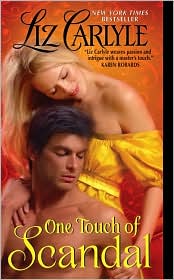 Comment for a Cause: Interested in Liz Carlyle's newest book or simply enjoy historical romance? Post a comment and the author's publisher, Avon, will donate a dollar for each one (for up to $3,000). The money will go to Cat Angels a non-profit organization that Liz Carlyle supports saying, "It's a small, sweet organization with fuzzy pictures and no large benefactors at all."