Go In-Depth Inside Of Legacy By Cayla Kluver
Tue, 08/09/2011 - 3:06pm — admin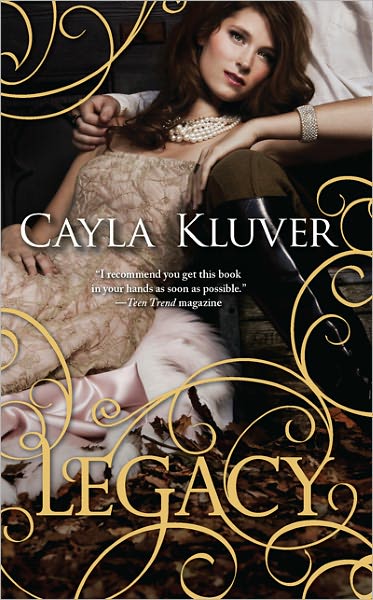 Debut author Cayla Kluver's YA fantasy Legacy was published before she even graduated from high school. And Cayla's beta reader — the first person who reads the story after the author has finished writing portions of it — is her mother. Working together the duo self-published the novel before it was picked up by Harlequin Teen! Needless to say, I knew I needed to get the inside story, so here are five question interviews with the author, her beta reader and her literary agent Kevan Lyons, for a special look at how Legacy came to be.
Legacy will appeal to readers like me who cut their teeth on Tamora Pierce's Lioness Quartet novels but I'd also suggest it for mystery fans and even contemporary readers. The story opens up fifteen years after a brutal war between the fictional kingdoms of Hytanica and Cokyri, as Alera, the eldest princess of Hytanica, wrestles with her parents' expectation that she will wed on her seventeenth birthday. The plot takes an unexpected twist when Narian, a young man believed to be killed by the Cokyri when he was just a baby, returns to Hytanica. Narian has been changed by his youth in Cokyri and the pair begins a romance that Alera knows her parents consider unacceptable. It is clear from the start that this is a tale full of political intrigue, forbidden love and dark and mysterious secrets. However, it is the way that Cayla brings her wide cast of characters to life in vivid detail that will keep readers hanging on until the very last word. 
***
Five Questions With Legacy Series Author Cayla Kluver
Whitney: As you are author of Legacy, I knew I wanted to chat with you first. And I have to admit, I'm dying to know — what part of the story came to you first?
Cayla: The concept of Narian's life. I wondered how someone would cope with having been kidnapped as a baby, and then discovering their biological family as a teenager/adult. His psychological journey is what really prompted me to write the book – Princess Alera and the rest of the characters were created secondarily. They were the means to an end, to tell his story – which is interesting now that I think about it, because he remains a fairly mysterious character at the end of Legacy.
Whitney: Legacy is like a rich tapestry that readers can wrap around themselves. What part of the series starter is an element that evolved as you fine-tuned the story?
Cayla: The character of London evolved immensely. I introduced him on a whim because I thought it was logical for Alera to have a bodyguard. He was supposed to be a snarky background character, but instead he became part of what compelled the story. Once I'd finished the first draft, the element that evolved the most was the setting – I really delved into the world building and tried to make Hytanica a place readers could envision living.
Whitney: You were a published author before you even graduated from high school, congrats! What's the next goal on your horizon?
Cayla: To stay a published author! I feel like I jumped on a springboard and landed on the balance beam (gymnastics metaphor), and now begins the difficult task of going through the routine without falling right back off. I'm also looking at college – it would be a fabulous opportunity to meet people and experience the world. It's an opportunity I don't think I want to pass up.
Whitney: Most people assume that teens have really challenging relationships with their parents, but your mom is your critique partner and editor. What was that like? Can you share a piece of advice for teens trying to build good relationships with their own parents?
Cayla: In order to have a good relationship with anyone, there has to be mutual respect. Most teens (most of my friends, anyway) struggle with the feeling that they're walking on eggshells whenever they're around their parents, and that, to me, highlights a lack of respect on the part of the parent. Teenagers want to figure out who they are and make their own choices, and more importantly, they're perfectly capable of doing those things. Instead, many of them are only able to be themselves behind their parents' backs. When their parents are around, they have to pretend to be something they're not, which ironically is discouraged from kindergarten on up, but becomes Survival 101 for some teens. I never had that issue with my mom – she always viewed my sisters and me as individuals entrusted to her, for her to do everything she could to make possible the futures we were meant to have. The best advice I can give to teenagers is to try to show your parents who you are; try to be patient with them; trust yourself; and don't let their disapproval compel you to do something you know isn't smart, because if your goal is to be in control of your own life – well, doing the opposite of what your parents want is still letting what they say dictate what you do. Make the choices you want to make, and be the person you want to be.
Whitney: Okay, one final question, what is something in the sequel that you can't wait for readers to experience?
Cayla: Alera in action. She comes into her own in Allegiance. But what I'm most excited for is to see readers' reactions to the development of Steldor's character. He changes a lot in book two, and I think readers' opinions of him might change as well.
***
Five Questions With Legacy Series Beta Reader (and Cayla's Mother) Kimberly Phifer
Whitney: I asked Cayla and I'm interested in your opinion as her beta reader, what part of Legacy spoke to you first?
Kimberly: Cayla had written about fifty pages at the time I first saw the story that became Legacy. I was immediately intrigued by the two kingdoms she was creating, but the character in those early pages who pulled me in was London. His relationship to Alera, his mysterious past, and his connection to the enemy kingdom made me want more… a lot more. So I asked Cayla where the story was heading and was amazed at her overall idea. That's when I realized that she not only had a flair for writing, but had a potentially publishable story.
Whitney: Most people do not have their critique partner living in the same house, can you talk about the actual process that you went through? (Did you read chapter by chapter or page by page, and did you set apart a special time to discuss the story or was it woven into everyday life?)
Kimberly: To some extent, we lived and breathed the story – the characters became almost like family members. Cayla would print off chapters as she wrote them and put them in a binder that sat on our kitchen counter. Her sisters and I would read through it and maybe make a few notes or write a couple of questions in the margins. And conversations about the characters occurred anytime and anywhere – in the car, at dinner, at the grocery store. In terms of the writing itself, Cayla was in high school at the time, so tended to sit down to her laptop around 10:00 in the evening. Being a night owl myself, she and I would end up having late night conversations about the plot or some burning idea that she needed to bounce off someone. But my emphasis was on encouraging her to keep the story moving forward; I didn't want to derail her writing, so it wasn't until the first draft was complete that I took a more critical look at it. Her strong suits were character creation and dialogue, so we ended up talking a lot about adding more description, which necessitated quite a bit of research into the medieval period; we also talked about rounding out the lives of some of the characters, and techniques like foreshadowing. And yes, we had a few disagreements, which Cayla sometimes resolved by soliciting opinions from her sisters or other friends. But bottom line, she was the author, I was the consultant. I think the manuscript grew 75 pages between first and second draft.
Whitney: You helped Cayla self-publish Legacy, what was a resource that was really helpful to you during this journey?
Kimberly: Given my background as a lawyer and University professor, doing research and figuring out the details was second nature to me. What was completely foreign, however, was the printing process, so I decided to use a local printer. The folks at Eau Claire Printing became my gurus and were absolutely wonderful in helping us with design, lay-out, production, and distribution. I also joined the Independent Book Publishers Association – I found many of their member benefits and resources to be invaluable.
Whitney: You and Cayla have a very special relationship, what was it like to work with your daughter? And can you share a piece of advice for parents trying to build good relationships with their own teens?
Kimberly: It was, and is, a lot of fun to work with Cayla, and we're a good fit in terms of balancing out each other's strengths and weaknesses. I'm very detail oriented, very logical, very good at spotting plot inconsistencies and things like that. Cayla is more creative, very observant, very good at capturing personalities and emotions and distilling them into words. So I can say to her, "The way you phrased this is amazing, but it needs more context." The other thing that helps is that our brains seem to be similarly wired – we'll often be talking and have the same idea at the same time. Not to mention that our handwriting is eerily alike!
As far as parenting advice… it all starts with respect. I always respected my three daughters as individuals with their own likes and dislikes, wants and needs, ideas and impulses. My job was to guide their development, not to control it.  So I respected their right to make decisions (my child was the one wearing one green sock and one red sock in kindergarten); I let them question and challenge my decisions (they never had trouble standing up to peer pressure); and I talked with them about anything and everything. A teen isn't some new, strange creature – the teen blossoms from the child you've known all along. I think the problem is that some parents don't really know their child and therefore aren't going to know how to relate to the teen that emerges. So, I guess my advice is pretty simple - spend time with your child and talk with your child from the very beginning, and just never stop.
Whitney: Okay and back to the book for our final question. What is something in the sequel that you can't wait for readers to experience?
Kimberly: In Allegiance, war descends on Hytanica, with all its glory and tragedy. Even though I've read the manuscript a dozen times, certain sections of the book still bring tears to my eyes. But I think some of the really key experiences are meeting the Overlord; learning about London's mysterious past; the horrible dilemmas that face Narian; and Alera's growth as a leader. The novel has some shocking twists and turns. I loved Legacy, but Allegiance leaves me breathless. And Sacrifice, the third novel in the trilogy, is haunting and powerful, with a couple of great new characters.
***
Five Questions With Legacy Series Literary Agent Kevan Lyons
Whitney: So I've asked Cayla and Kimberly, and I'm curious to see if as Cayla's literary agent you answer this question the same way, what part of Legacy spoke to you first? 
Kevan: I remember being completely caught up in Alera's world. As a lover of historical fiction, this story immediately captivated me. Alera is a character you are immediately drawn to – a young, very smart, independent girl in a situation where she is bound by rules and tradition. As you come to know her you definitely are rooting for her to find love, freedom and happiness early on. I also loved the opening – which immediately draws readers into the mystery of Narian's background, and you knew right away this was going to be an important key to what would unfold in the story.
Whitney: How did you and Cayla (and her mother) find each other?
Kevan: Cayla's book, Legacy (the self published version) was selected as the launch title for the Amazon Encore publishing program. I was familiar with several individuals at Amazon who were working on the launch of their new publishing program and they facilitated an introduction to Cayla and Kimberly. Once I read the book I was completely hooked and in awe of Cayla's talent. I felt like I had found a "treasure"! 
Whitney: What was something that you were conscious of as you worked with Cayla to find a publishing house and promote her debut novel?
Kevan: Once we decided to move Cayla's work in paperback for Legacy, and for both hardcover and paperback for the next two books (Allegiance and Sacrifice) to another publisher, I was looking for an editor who would fall in love with the story and see how to make this work for them. The rights situation was a bit complicated, so it took an editor with the vision to see beyond that and to see the potential of what this very talented, young author had ahead of her – a very promising career. Natashya Wilson immediately fell in love with Cayla's story and she worked hard to make all of the pieces work at Harlequin Teen. Then the entire Harlequin team got excited about the book – I knew we had found the perfect home for her work. 
WS: Based on your experience working with Cayla, can you share a piece of advice you'd give to teen authors who are looking for an agent? 
KL: Regardless of how old you are when you begin your writing career, realize your work will be judged not by your age, but by the quality of the writing and the story. Cayla never wanted us to emphasize her age when we talked about the book. The book stood on its own and then readers were ever more in awe of her talent when they learned how young she was when she first began the journey that would result in the Legacy Trilogy. My advice to other teen authors would be to persevere, even with those first rejections. If writing is really your passion, then work hard at it, learn as much as you can and it just might happen for you – which is really the same advice we give to all writers regardless of their age!
Whitney: What is something in the sequel that you can't wait for readers to experience?
Kevan: Oh, this is a tough one – because there is SO much to come. I can tell you that the next two books are absolutely AMAZING. They are both action and drama packed, you will not be able to put them down once you start reading.  Allegiance it will grab you from that opening page and never let you go. The darkness of war and how it completely changes Alera's life and all of her kingdom is so unexpected. The characters evolve in ways you never thought possible. In Sacrifice the story continues as Alera tries to rebuild both her life and the lives of her people. This story is one that will haunt you and break your heart in many ways as you root for a happy ending.  
So for all of you out there who haven't had a chance to check out Legacy by Cayla Kluver, it is in stores now. And of course, for the latest in Young Adult news and an insider look at some of the most intriguing new releases, be sure to check out our Everything Young Adult Page!