Going Home Again: Lucy Connors on The Lonesome Young
Wed, 04/09/2014 - 12:12pm — admin
Best known for her adult paranormal romances, Alyssa Day has turned to the YA world for her latest release, The Lonesome Young, written under the pen name Lucy Connors. The book stars two star-crossed teens whose lives are ruled by family feuds, drugs and dangerous business deals. Writing the book proved to be a highly personal endeavor for the author, and today she talks about how her own story influenced the book. Take a look: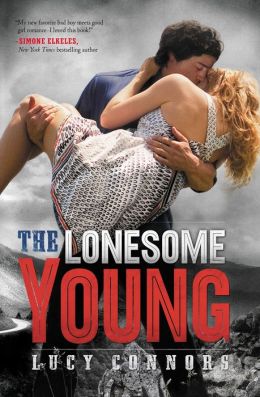 The Lonesome Young is very personal for me, because I know this town. I know these people. I used to live in a place just like fictional Whitfield, Kentucky, and I have more than a little in common with both Victoria and Mickey.
All kids are not rich. They don't all live on the Upper West Side of New York, or find out they're secretly princesses or spend their scads of money on designer shoes. This seems like common sense, but so much of popular culture feels like it has no connection to the way I grew up. After my dad abandoned us, we moved to a small rural town, and my mother kicked ass making a living to support two kids on her own. But we worried about having enough food, and sometimes I think we were a hair away from homelessness. I'll never forget how I felt at the grocery store during the times when we had to use food stamps to make ends meet.  Or when someone felt entitled to make a snide remark about the contents of our grocery cart, because they saw us using them.
Shame burns deep, and it lasts a very long time.
And — culture shock. After a life lived around the world in cities and on Air Force bases, I was suddenly 15 years old and living in a small rural town where the first day of hunting season was a school holiday. The social highlight of the weekend was gathering on dirt roads to light a fire, drink cheap beer and cheaper wine, and get high. Drugs were everywhere, and I was smart enough to calculate the percentages, and almost desperate enough to believe that the best way out of poverty was to sell them. 
Almost desperate enough. 
Those TV rich kids' lives are a lovely, escapist fantasy for teens, but I wanted to tell the story of kids like me. Teens who have problems that are grittier and more immediate than which designer gown to wear to the prom. Kids who have to deal with serious family trouble, financial troubles and the lure of drugs and drinking — because it's so very human to want to escape.
My book ideas always begin with "What if?" For my Alyssa Day paranormal romance novels, it was "What if Atlantis really existed?" Or "What if an immortal wizard met an almost-human woman?" But this book idea was far more personal to me. It was "What if a sheltered, shy girl moved to a small town after her family lost everything? What if the one boy she'd ever had real feelings for turned out to be the one boy she was forbidden to see?"
Mickey and Victoria's star-crossed love story grew out of that, and I loved every minute I spent writing it. And I cried some, and I learned a lot about myself.
The old adage says "You can't go home again," but this book gave me the chance to do just that. I hope it holds some hope for teens who are going through hard times themselves. Thank you for reading it.
- Lucy Connors
This engrossing and romantic read is now available in stores and online, so purchase your copy ASAP and fall in love with Victoria and Mickey's powerful story! And for more YA authors, buzz and books, visit our Everything Young Adult page!