Grace Burrowes Introduces Readers To Darius - With Giveaway!
Thu, 04/04/2013 - 12:51pm — admin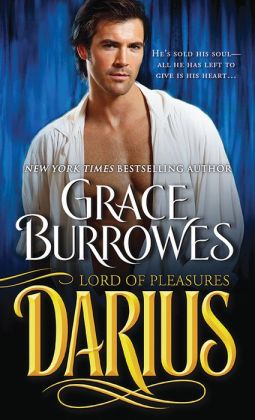 Historical romance author Grace Burrowes isn't always easy on her heroes. Take her latest leading man, the leading man from this month's Darius. Darius isn't a wealthy aristocrat, in fact he is barely scraping by as a tutor. In order to supplement his meager income, Darius resorts to selling his bedroom talents to rich women. It takes a strong lady to help Darius reclaim his self-respect and Lady Vivian proves to be the woman to help him heal. Today the author shares what she loves about romance heroes, and what makes Darius so appealing. Plus, find out how to win a copy of Darius at the end of this post!
One of my brothers once told me that the greatest conflict I could inflict on a hero was to make him choose between the competing demands of honor. This is good advice: Does a hero save his sister or his mother? His family or his country? Does he try to stop a friend from ruinous gambling, or honor the tenant of gentlemanly friendship that says, "don't interfere."
The plotting possibilities are tantalizing, and many terrific books have been written around these awful, forced choices.
As the plot premise for Darius evolved in my imagination, I realized there's a worse choice yet: A person can be made to choose between his honor and his very life.
Darius takes on responsibilities for wrongs done by his father — to his sister, to loyal family retainers, to an innocent child — and then expects himself to live up to those responsibilities regardless of the fact that his father has also stolen Darius' inheritance. 
Gainful employment — as a tutor, for example — will not produce enough coin, so Darius barters the one asset he has left. He makes himself available to wealthy women as a bedroom toy for hire, stopping just short of actual prostitution. This distinction is not enough to rescue his honor, of course, and as the book opens we find a man deeply ashamed of himself.
Darius expects himself to be smarter than this, to be cleverer, to have found wiser answers, to have been more resourceful. In terms of reader appeal, it doesn't hurt that he's smokin' hot, it doesn't hurt that he treats the woman who capsizes his world (and his self-image) like gold. But I think what rescues this unlikely hero for me and for readers is that … we've all been there.
No, we're not bartering our intimate favors for coin in Regency England (I hope!), but we've all painted ourselves into corners. We've all felt stupid, ashamed, and exhausted by poor choices that lead to even poorer choices — or we've watched a loved one slip along this exhausting, bewildering path.
If we're lucky, we learn from our mistakes, we find the smarter path, we thrash, slide, bash, and beg our way onto more solid footing. We trade the toad for the handsome prince, we take better care of ourselves.
Darius gets lucky, so to speak, in the person of Lady Vivian. She sees the honor in him he's lost sight of himself, and gives him a way to reclaim it. Even better, Darius can, with Vivian's love and her faith in him, reclaim his innocence, his love for life and his self-respect.
There are wonderful books written about the swains and damsels who must save the realm before true love can be theirs, or at least save the life of the sovereign. Romance novels are full of protagonists who must save the family business, find a missing sister, find the courage to trust.
Darius got to me, though, because what our hero must do is try again, long after he's given up hope, to live honorably, to love and allow himself to be loved. This, to me, is the fundamental struggle in life: To learn how to love and be loved, and in this struggle, Darius — though the odds are stacked high against him — prevails beautifully.
He is not, by any means, your typical romance hero—in the best possible sense.
- Grace Burrowes
GIVEAWAY ALERT: When has somebody had faith in you that pulled you through? Seen silver linings you were blind to? Let Grace know in the comments and be entered to win a a signed copy of Darius. You can also e-mail your answer here, along with your mailing address and the subject "Grace Burrowes Giveaway." U.S. and Canadian residents only, please. Winners will be announced April 11.
You can pick up a copy of Darius, available in stores and online now. For more historical heroes, visit our Everything Romance Page.