Guess The Heroine Of Katharine Ashe's How A Lady Weds A Rogue And WIn Big!
Fri, 07/13/2012 - 8:06am — admin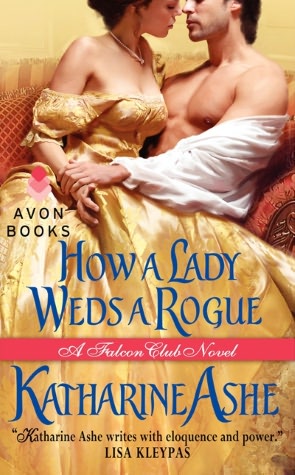 Historical romance author Katharine Ashe has us head over heels for the handsome heroes of the Falcon Club. This summer's How to be a Proper Lady has just hit shelves and fans who have already read the book don't have long to wait for the next series installment: September's How a Lady Weds a Rogue. We know that this novel will match one of the Falcon Club men with a country miss, but the heroine's identity has been a tightly wrapped secret — until now! All this week the author is giving readers a chance to guess the heroine's identity with a giveaway. Fabulous prizes will be awarded to first, second and third place winners. But don't worry; you won't be guessing blindly, each day Ashe will reveal a new clue to help you discover the heroine's identity. Now we're handing this post over to Katharine Ashe, so she can share how to enter and who is eligible to participate ... and of course, the very first hint of the contest!
Until now the heroine of How a Lady Weds a Rogue (coming September 25), has been a mystery. But my hero, delectably handsome secret agent Wyn Yale, is impatient to know the name of the lady he will lose his heart to, and he wants you to guess her identity!
Each day this week, Monday through Friday, right here on this blog post I'll offer a different clue to her identity, five clues in all. Winners will be announced on Monday, July 16. Check back every day for a new RT-exclusive clue!
***
The Winners are Carey S (First Place), Krista B (Second Place) and Irene O (Third Place).

HINT #1: She has appeared in at least two of Katharine's previous novels.
HINT #2: She has dark hair.
HINT #3: She has a very curious nature that often leads her into trouble. Some might say she's positively wayward!
HINT #4: The story is set in 1820, and she is the youngest heroine Katharine has ever written.
HINT #5: Her first name is one of the following: Amarantha, Beatrice, Caitria, Charlotte, Clarice, Constance, Diantha, Emily, Fiona, Isobel, Jane, Lady Justice, or Sylvia.
The heroine is Miss Diantha Lucas!
***
PRIZES: First prize is a $100 gift card to your choice of Amazon.com or Barnes & Noble. Second place wins a $50 gift card. Third place wins a $25 gift card.
HOW TO ENTER: Email your single guess to contest@KatharineAshe.com before 12:00 midnight July 15 EDT. (Make sure to spell "Katharine" correctly!) Winners will be chosen randomly from all correct guesses emailed to the address above.
READER BONUS: Do you have a question you'd like to ask about my books? If you ask it in the comments area of this blog before midnight July 15 in addition to e-mailing me your guess for the heroine's identity, I'll include your contest entry even if it's not correct in the drawing for the 2nd and 3rd place prizes.
- Katharine Ashe
***
CONTEST RULES:
This giveaway is in no way sponsored, endorsed or administered by, or associated with RT BOOK REVIEWS. By submitting your entry via an email to contest@KatharineAshe.com you agree to completely release RT BOOK REVIEWS from all liability.
By submitting your entry you agree to share your information with and sign up for Katharine's newsletter. She agrees not to share your information with anyone else. You may unsubscribe at any time.
You must be 18 years old to enter.
Giveaway ends at midnight, Sunday, July 15, 2012.
Three winners will be chosen at random from all entrants who submit correct guesses. Winner selection is at the sole discretion of Kim Castillo. All decisions are final.
Winner will be notified via email by kimscastillo@gmail.com.
Giveaway is sponsored by Katharine Ashe via Kim Castillo at Author's Best Friend. No purchase necessary. Katharine Ashe, Kim Castillo or Author's Best Friend are not responsible for transmission failures, computer glitches or lost, late, damaged or returned mail.