Harlequin's First KISS
Thu, 02/14/2013 - 12:57pm — admin
Nobody forgets their first kiss. Whether it was with a toad or the man of your dreams, there is nothing more appropriate on Valentine's Day than reminiscing about that first liplock. Harlequin, a leading publisher of romance novels, knows just how important this moment can be, and have named its newest imprint Harlequin KISS.
According to Harlequin editor Flo Nicoll, KISS books are all about spirited, independent women — their lives, work, friendships and how they meet Mr. Right.
"These women know exactly what they want, and they certainly don't need a man to make their lives complete, so to catch their attention, their heroes need to be super-hot and gorgeously Alpha. All in a totally 21st century way, obviously!"
At RT, we wanted to get to know the couples in KISS's launch titles a bit better, so in honor of Valentine's Day, the authors are sharing the first kiss between their heroes and heroines. Enjoy! 
Kimberly Lang's The Downfall of a Good Girl features Vivienne LaBlanc as the titular good girl and the very bad boy, Connor Mansfield. The smokin' hot rockstar is in need of a reputation makeover and who better to help him than the do-gooder Vivi. But what happens when this girl just wants to have fun? All sorts of naughty delights ... and it all starts with this kiss:
Vivi's eyes widened at the contact, and he knew she felt the same electricity. There was the smallest moment of hesitation — one breath's worth — and then her lips touched his.
Connor never knew what to expect from Vivi, and this was no different. Her mouth was pliant and warm, but cautious, gently moving against his.
Every rational thought shouted at him to stop. This was Vivi, and he had no business kissing her. He shouldn't want to.
But he couldn't have stopped if he tried. She tasted fresh, sweet, and, God help him, right. Her tongue slid past his lips, and the tentative touch awakened something primal inside him, beating down all the rational thoughts until he couldn't imagine not kissing her.
Heroine Frith Taylor is definitely not looking to get Hitched! in Jessica Hart's newest book. Pragmatic and practical, Frith's low self-esteem is definitely getting in the way of her love life. But George Challoner sees past Frith's defenses to the very heart of this special woman. And he knows just how to prove her desirability. 
George smiled. "That's what I thought," he said, and then my lashes were sweeping down he leant towards me, or maybe I leant towards him, and then his lips pressed against mine. They were warm and firm and oh-so-sure, and the feel of them sent a bolt of intense sensation right through to my toes. I could have sworn the room rocked around me, and I had to put up a hand to George's shoulder to steady myself. 
His mouth felt so right that all sensible thought evaporated, and somehow my hand slid round to tangle in his hair to pull him closer and deepen the kiss. 
Evie Jones and Logan Black shared their first kiss (and a whole lot more) ten years ago in author Kelly Hunter's Top Pick! KISS title. Soon after a sexy week long encounter they went their separate ways. Reunited thanks to an awkward situation — Evie is getting ready to marry Logan's half-brother — these two have plenty to work out. And from the looks of things, the physical side of their relationship may be the key to getting back The One That Got Away.
"You can't marry my brother, Evie. Don't even think it," he murmured against her lips, and the hands that came up to frame her face were gentle, but the tongue that stroked the seam of her mouth open was not, and the kiss that followed was not. The kiss spoke of ownership and anger and a helplessness Evie knew all too well.

Logan's fingers tangled in her hair as he tilted her head back for better access to her mouth. What Logan wanted, he took … that was just his nature, but the way he took it… oh… the way he feasted…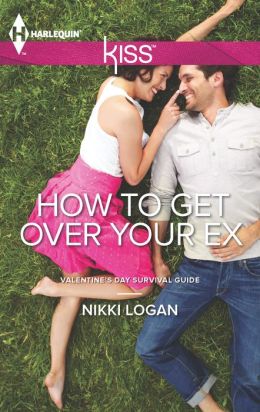 After being publically rejected by her boyfriend, Georgia Stone is trying to figure out How To Get Over Your Ex in Nikki Logan's sweet story. Fortunately, the answer to Georgia's problem is right under her nose — co-worker Zander Rush. This is a man who knows how to treat a lady, as he proves with their very first kiss.
"Why are we here, Zander?" Georgia breathed into the fading light. "Here, by the twinkling water as the sun sets."
"Do you want to leave?" he murmured, eyes locked on hers.
She should. "No."
"Do you want to feel?"
Her pulse began to hammer in earnest.
He slipped his hand behind her head, lowering his forehead to rest on hers. His heat radiated outwards. His eyes drifted shut.
She hesitated for only a moment, then turned her face to rub her jaw along his, twisting inwards, seeking out the lips that hunted for hers. The full lips she'd been wanting to taste since she'd seen them stained with Bolognese sauce and a smile in the restaurant kitchen.
Their mouths touched. Sensation sparked between them and birthed a flame, hot and raw.
How would you say these kisses stack up to your own experiences? Has it always been fireworks for you and your man, or have you yet to find your prince? Either way, it's fun to read about a great romance, and Harlequin's KISS line is full of fantastic heroines and sexy leading men. To learn more about these books and all of Harlequin's imprints, you can check out RT's Everything Romance Page.