Head To Head On Historical Accuracy
Fri, 07/23/2010 - 11:47am — admin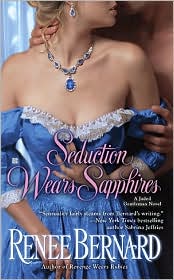 Two historical romance fans go head-to-head on the importance of historical accuracy in historical romances. When they debate about Renee Bernard's new release, Seduction Wears Sapphires, the author also weighs in on how historical facts influenced her writing.
Lizzie Poteet, one of RT's summer interns, is a stickler for historical accuracy. She says, "I understand that in fiction there is a level of, well, fiction and fantasy. But, I hate it when historicals are blatantly inaccurate that I notice things like medieval garb on a Regency duke or inappropriate speech patterns. My books don't have to be 100% historically accurate. They just have to make sense."
Taking the opposite stance, RT's Assistant Web Editor Whitney Sullivan doesn't care so much about the facts. "I'd rather the story be fun than completely accurate. I mean, the number of dukes and earls and lords running around all getting married during the same time period ... well there are more Regency novels published than there were titled men looking for (or accidentally finding) women to marry!"
Historical romance author Renee Bernard has an altogether different view. "I came across a great quote that seems to say it all. 'History may seem to be about the past, but it really is about the present.' (That was an MD and historian of medicine, Jacalyn Duffin.)  I'm drawn to history because it is simultaneously a complete fantasy of escape but also a wonderful relevant backdrop for plots that I hope are timeless in many ways."
We felt that when it came time to debate the importance of historical accuracy in practice, Renee Bernard's newest novel, Seduction Wears Sapphires, was the perfect arena. The second in Bernard's A Jaded Gentlement series (following the RT Top Pick Revenge Wears Rubies) chronicles an English gentleman's attempt to reform his rakish ways with the help of his American "chaperone", Caroline Townsend.
The Debate:
Lizzie: I thought the characters were strong, the dialog witty and the romance steamy. But I was not a fan of the premise. The entire plot of the story surrounded the bet: that Ashe Blackwell was a rake and could not behave honorably for a season.

Whitney: First off, I'd say it wasn't a bet so much as a threat (that Ashe had to behave or he'd forfeit his inheritance). And whose grandparents' haven't done something desperate seeming to make sure that your awwwwful cousin doesn't inherit? So it's not like the situation was ideal ... but, sending Caroline to be Ashe's moral compass for a season was just Grandpa's way of looking out for Ashe.

Lizzie: Familial manipulation at it's finest ... and I agree with the threat, Ashe needed to shape up. Nonetheless, with all the rules and regulations of the time — not to mention the overwhelming obsession with propriety — there is no way that a young, ill-reputed man would be allowed live with a young woman of gentle breeding and no relation to him even if he was her guardian. Without a chaperone (to chaperone chaperone Caroline) the two of them living together would cause a scandal, which completely negates Bernard's plot, that the hero must avoid any scandal. If Bernard had not stressed the need for propriety so much in the narrative, I would not have minded that her characters were essentially living in their own love-nest.

Whitney: Well the entire ton thought that heroine Caroline was a Quaker. An American Quaker. Because of that, the standards were different! (Plus, the ton all thought that she was his distant cousin.)

Lizzie: Even Quakers would have had chaperones. I agree that the ton would hold Caroline to different standards but I don't think that the standards go so far as to allow her to live with a rouge. Bernard could have added an additional chaperone figure like a sister, or any female figure to authenticate her premise.

Whitney: Okay maybe it was a bit strange that she didn't have a chaperone but  at one point, Ashe and Caroline do have a whole conversation about if they should hire a chaperone - and they decide that society would think it was odd if they suddenly had one.

Lizzie: That one niggling inaccuracy impacted my response to the entire story … I was really surprised that Ashe was not part of the nobility. I kept waiting for his grandfather to be a Duke and explain why he was so readily accepted in Society and the Season.

Whitney: Oh I totally assumed that he was a something. But if he wasn't, he had money. Tons of money. I mean, the man was swimming in sapphires.

Lizzie: True but traditionally the old and new money did not really mix especially in the Victorian period which was another point for me I thought this was a Regency!

Whitney: Nope, even though many things are similar, it takes place in 1859. So all the stuff in India could occur (by the way, Bernard gets a giant thumbs up for creating Ashe's interracial relationship). And that's where the Jaded come together.

Lizzie: Agreed. As far as character motivation ... his past relationship disasters in India are much stronger than some motivations you see. True, India provided both emotional motivation for Ashe's romance as well as his group of friends who come from of a variety of socio-economic backgrounds. These men would have never been friends without having endured the trials abroad.  

Whitney: But they could be! Because of India!

Lizzie: How did you feel about Caroline's "college for women" dream? At first I was unsure whether it worked within the historical context, but by the time I finished the book, it seemed plausible.

Whitney: I loved it. It's been a while since I read a historical where someone not only had a job  — Caroline is a teacher in America and a chaperone in England — but a dream of doing something to improve education for women!
Bernard's Take On Factual Fiction:
Whenever possible, I read books and sources from the actual period, textbooks and reference books and in a pinch, there is (bless it!) the Internet!!  If I find a good reference book, the bibliography is a Pandora's Box to dozens of others and a girl can run out of time to write if she's not careful ....  Luckily for me, the Victorian era is extremely well documented and there are all kinds of strange and wonderful books available for authors questing for weird details and odd information.
 With an obligatory nod to the fictional requirements of our wonderful genre, I try to be as authentic as I can and respect the details.  Whether it's a card game, a bit of fashion or the shape of the cobblestones on a famous London street, I make an effort to at least carry across the spirit of the time period. Perfection is a lofty goal, but I want to make sure that I include enough authentic touches to really transport a reader and give them a complete experience!
The Verdict:
Lizzie: I actually enjoyed Seduction Wears Sapphires. Even though it wasn't totally historically accurate, there were some really compelling elements to the story.
Whitney: I knew you'd like it! I promise to let you know when the next novel comes out. And lucky for us, Renee Bernard has just sold the next two titles in her series. So we can expect the Jaded's story to continue with Ecstasy Wears Emeralds and Passion Wears Pearls.
How do you feel about the importance of historical correctness in your historical romance? Comment below!