Help Pick Historical Romance Author Valerie Bowman's Wedding Dress
Thu, 03/28/2013 - 12:27pm — admin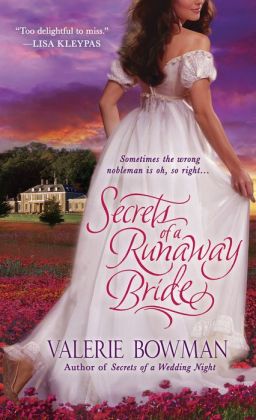 Who better than to pen the tale of a soon-to-be bride excited about her elopement than a woman who shares the same future? Although unlike her heroine Annie in Secrets of A Runaway Bride, author Valerie Bowman will (hopefully) not be kidnapped by an Earl before she walks down the aisle! Today the author shares her very personal connection to her Secret Brides series, because she's headed to the alter herself! Plus, the author gives us the details on her big day and asks readers to help her pick the perfect dress.

Today I'm here to celebrate the release of the second book in my Secret Brides series, Secrets of a Runaway Bride. I was absolutely thrilled to learn that RT gave the book a Top Pick! rating and gave my hero, Jordan Holloway, the coveted K.I.S.S. ranking. The book is in stores (and on e-shelves) now and I'm so happy to share it with all of you!
The really fun (and completely unplanned!) thing about my Secret Brides series is that as these books are coming out, I, myself am planning my own wedding. Yep, that's right. I'm a bride! And while I might not be sharing the, "secrets of my wedding night" or being a runaway bride myself, I've been having a great time mirroring the characters of my stories as they meet and fall in love.
My fiancé, Marcus (Isn't it great? He has a historical romance novel hero name, no?) and I are getting married in the fall in North Carolina. We're running off and "eloping." Which basically means it'll just be the two of us. When I posted this news on my Facebook page recently, I had a few people inform me that the place in North Carolina where we're going was actually settled by Scots. It's even called Highlands. And there's a spot called Bridal Veil Falls nearby. (I can't make this stuff up!) So, in a way, we're sort of running off to "Scotland" and eloping (and it's due north because we live in Florida!) just like the heroine of Secrets of a Runaway Bride, Annie Andrews, tries to do. Needless to say, this delights the historical romance novelist in me. Marcus is a good sport. :)
The other fun thing that's happened as a result of my own wedding is that I recently applied to be on a reality TV show called Say Yes to the Dress Atlanta. It's a show where brides pick out their wedding dresses and it airs on the TLC channel. The producers of the show were especially interested in my romance-novelist-who-writes-about-brides-and-who-is-a-bride angle. We're filming the show this week (no idea when it will air yet) and if I find a dress I love, I plan to give it away on my website (after the wedding of course!) How fun is that? When I do, I'll be sure to pay RT another visit with all the deets on the show and the giveaway!
This all started with a link to my Pinterest page where I'd posted pictures of wedding dresses I like. If you'd like to vote on the different styles, go here.
I'd love to hear your feedback.
So, all this to say, that right now my life is imitating my art and it's absolutely the best fun. I hope you'll all join me in celebrating the launch of Secrets of a Runaway Bride. And tell me, if you've been married, what sort of wedding dress did you have? Classic? Goth? A-line? Short? Long? Mod? If you had to do it all over again would you buy the same dress? And if you're not married, what sort of dress would you choose if you were getting married?
- Valerie Bowman
You can pick up a copy of Secrets of A Runaway Bride, available in stores now! For more historical love stories visit our Everything Romance Page.