A Heroine's Profile
Fri, 01/28/2011 - 3:34pm — admin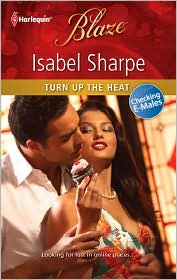 Isabel Sharpe reveals her heroine's dating dilemma, and the unique solution that Candy comes up with in this month's series romance, Turn Up the Heat!
Have you ever tried to write an online dating profile? I have. It's not easy, especially when you're not a person with simple moods and tastes. Here's what mine could be like:
I'm happy and outgoing . . . except when the only face I want to see is my cat's. I love to go dancing . . . except when I'm hibernating with a book. Take me to the best restaurant in town . . . or a hole-in-the-wall with the perfect cheeseburger. Paris in the spring . . . my backyard in summer. Mountains . . . ocean. Champagne . . . beer in a can.

I start to feel as if I have multiple personality disorder.

Which is why when Candy, the heroine of Turn Up the Heat, book #1 of my dating trilogy, Checking E-Males, from Harlequin Blaze, decides to join Milwaukeedates.com, she puts up four different profiles. Different looks, different clothes, different sides of herself.

1. Superwoman—Out of her way, she has empires to run. Tailored suits, sensible heels, glasses and hair pulled back in a power bun. She dares you to take her on.

2. Child at Heart—Enough being serious! This girl likes to play. Patterned jeans, bright red ankle boots, huge beaded earrings and a light-him-up smile.

3. The Professor—When her brain hungers for the intellectual intimacy of an in-depth discussion in front of the fire. Comfortable tweed-y pants, bulky cream sweater, hair in a braid down her back.

4. Sexy Glamour Girl—This woman won't take no for an answer when yes is what she's after. Black stockings, itty bitty skirts and drive-him-wild cleavage. Hair loose, lips and eyes emphasized. Just.  Watch. Out.

Our hero, Justin, a California native suffering through his first Wisconsin winter, can not figure out why his neighbor across the street never looks or acts the same way twice. But on the bone-chilling day he finally encounters her face to face, he figures out right away that Candy is how he wants to stay warm all season long.

Join me for Checking E-Males, a fun and sexy trilogy from Harlequin Blaze. Turn Up the Heat, February 2011; Long, Slow Burn, April 2011; and Hot to the Touch, June 2011
- Isabel Sharpe
WE WANT TO KNOW: What different sides of yourself would you put up as different profiles on a dating site?