Holiday Gift Guide: For The Erotica Fans On Your List
Tue, 12/13/2011 - 4:04pm — admin
It's that time of year again, when you've got to make a list and check it twice to figure out what you're going to get your loved ones. But don't worry, we're here to help with suggestions for each type of person on your list. Today we bring you our top suggestions of what to get for the hard to gift-to erotica reader …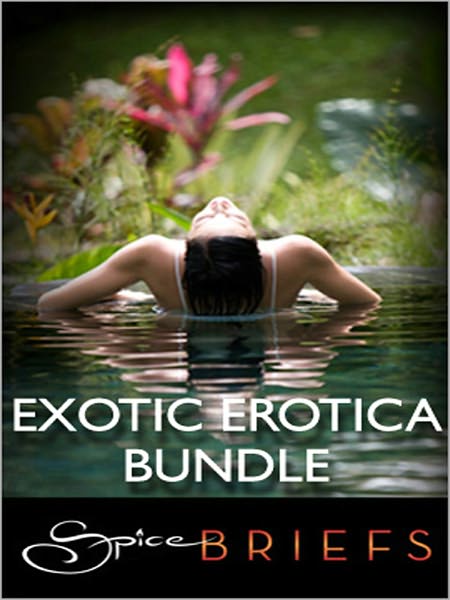 Steamy Reads:
If your loved one already has an e-reader, we suggest that this year you fill their digital device with spicy tales. This year we love the Harlequin Spice Briefs Bundles offered in a variety of fun fantasies: there's everything from sex at work, to exotic encounters and the popular Mistress Diaries series. These steamy collections will warm up any winter holiday. And if you can't choose, an Ellora's Cave gift card, new for the holiday season, is sure to delight! (If gift cards seem too impersonal, we suggest something from the popular online publisher's store. A few of the Ellora's Cave items topping our wish list are a 2012 calendar featuring the sexy Ellora's Cavemen, one of their Bad Girls of Romance t-shirts and a deck of naughty playing cards from their wide assortment here.)
But if your special someone still prefers print to electronic reads, why not keep it old school this season? Consider gifting this collection of classic erotic poems or go back to the beginnings of erotic writing with the books that started it all, the Kama Sutra.
Presents To Wear:
Before you get busy, how about getting pretty with some sultry clothing to set the mood? Nothing makes a sexy statement better than a pair of over-the-top heels. We love this corset-inspired pair from Betsey Johnson and these polka dot pinup pumps to add some retro flair to your wardrobe. For a gift that really wows, pair these new shoes with back-seam tights, a classic pair of fishnet thigh-highs, or these naughty corset backed tights. 
If you truly want to give your loved one the full package, you can make it a year to remember with these Bad Girl boy shorts and this black low back camisole from Naughty Naughty. Or, consider gifting this brown lace lingerie sleep set. Go the extra mile and top it all off with this silk kimono which says "classy and seductive" with its creative heart cutout back.
Does your loved one prefer lace to leather? There's plenty of romantic lingerie out there, such as this lace and silk nightgown and this lace peignoir robe. And you can't go wrong with these tasteful beaded garters. These whimsical striped bloomers are also sure to leave your lady grinning.
If your giftee wants to maintain their modesty while still channeling their inner sexiness as they go about their daily lives, this faux Victorian corset tee or this alter ego tee are sure to do the trick.
Gifts That Add To An Outfit:
This series of fun accessories can help show the world that your giftee has a sense of adventure. If your special someone is a lady, she can keep her passion discretely on display with this "I'll Rip Your Heart Out" heart-shaped necklace that features an image of a vintage-style pinup model or for these sterling silver high heel earrings.
As we all know, the air of mystery plays an important role in being sexy. So help your giftee keep things fresh by supplying them with this vibrant red wig, this seductive Black And Gold Mask or this Retro Rose Tattoo to help them (temporarily) walk on the wild side. Alternatively, you can give your loved one the tools to keep it classic, we love this Bunny Ears Headband and beautiful Corset with Lace Detailing that comes in a variety of jewel-toned colors to evoke the best-known symbol of sexy — bunny tail optional.
For The Giftee Who Is "Making It Up" As She Goes Along:
They say if you wear white cotton underwear, you'll feel like white cotton and RT's Whitney believes that if it holds true for unmentionables, it certainly holds true for cosmetics. She says, "If you are looking for products, anything by Buxom is a good buy, but their Hot Ticket Set is a smart starting place for beginners. The kit comes with mascara, eyeliner, lip-gloss and a lilac eye shadow, perfect for primping in the early-evening hours!"
To craft your own cosmetics set, we suggest Urban Decay's Naked Palette of eye shadows, a trio of the Lip of Luxury Champagne Essence Lipsticks from Too Faced and Nars blush in Orgasm will get her ready to face the world.
But if makeup seems to intimate a gift (or too easy to purchase in the wrong colors), we suggest selecting a few of OPI's cleverly named nail polishes for the sultry soul on your list. Whitney's top picks are Femme De Cirque, Suzi Loves Cowboys, Pepe's Purple Passion, Tasmanian Devil Made Me Do It, Do You Lilac It? and one more for good luck, Tickle My France-y.
Gifts For Staying On Top (Of Business And Correspondences):
If there's one thing we can't get enough of it's products that help us keep our busy lives coordinated. From this 2012 Pinup Wall Calendar to this set of Bad Girl Sticky Notes, office items are always welcome gifts. For the person on your list who'd rather send their seduction snail-mail style, we suggest these Mae West cards with a suggestive quote from 1940's My Little Chickadee. Alternatively, this set of Retro Pinup Greeting Cards will ensure that they are prepared to send out next year's holiday cards. But if you have a perpetually hard-working loved one, help them release some tension … by taking up a new hobby, gift them this Burlesque Sketchbook if they've always had an interest in art.
Presents To Raise The Temperature:
Help your giftee turn up the heat in the kitchen with this collection of fun cooking-inspired gifts. You can sweeten up your loved one's cooking experience with this Sugar and Spice Apron or make sure that their daily coffee (or tea) also comes with a "side order of smile" by gifting this Volunteer Erotica Patrol Coffee Mug. Or give them the tools to decorate in sexy style. These Pinup Magazine Magnets will dress up a kitchen fridge, and your giftee can make their baked goods stylish with these Vintage Corset Cupcake Toppers.
But if you want to get right to the sweet spot, we've got you covered. We love the Jacques Torres Wicked Hot Chocolate for a drink to remember, JellyBelly's BeanBoozled Naughty or Nice Spinner Gift Box to satisfy your loved one's sweet tooth while tickling their funny bone, and anyone who gets these Pinup-Themed Spice Blends will be cooking up something special in no time.
Gifts To Be Enjoyed Together : 
Things are better when you do them together! For a fun, romantic night in with your sweetie, try an adult-themed game such as the Dirty Minds board game or this Strip Poker card game. If you're looking to really turn up the heat, these spicy dice or, for the more daring couple, this satin bondage kit, will add an element of surprise to what goes on behind closed doors. Or help your giftee relax with this "Knead Me" massage set and an aromatic Massage bar (a less messy alternative to massage oils). And for everyday fun, this sexual innuendo magnetic poetry kit will get your creative juices flowing!
Have a great erotica-inspired gift idea that we missed? Let us know in the comments below! You can also see which items made our Gift Guide For Romance Fans, our Gift Guide for Mystery Readers and Gift Guide For Science Fiction And Fantasy Enthusiasts.