How Anne Marsh's Romantic Suspense Hero Plans On Changing His Dangerous Ways - With Giveaway!
Mon, 04/08/2013 - 12:50pm — admin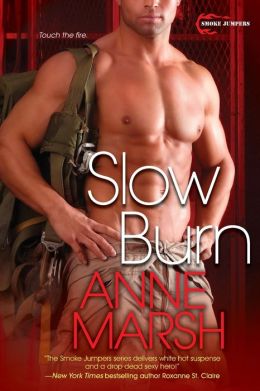 There's something incredibly sexy about a man who puts his life on the line to save others, but what happens when that man meets The One? Does he continue his potentially life-threatening profession, or does he give it up to say safe for his woman? Take the hero of Anne Marsh's Slow Burn, for example. Evan Donovan is part of a smoke jumping outfit that puts him right in the middle of blazing forest fires. But when he meets photographer Faye, he knows he can't keep risking it all with every jump. Today the author shares how Evan adjusts his career without giving up his dream. And learn how you can win a copy of Evan's brother's story Burning Up at the end of the post. 
The elite of the wildland firefighters, smoke jumpers parachute into the very heart of the smoke and flames. Jump thousand, look thousand, reach thousand, wait thousand, pull thousand. Check your canopy. Always know who has your back and where your lifeline is. Evan Donovan and his brothers, Jack and Rio, run one of the best smoke jumping outfits there is and they live by these tenets. Hard-bodied, rough around the edges, and absolutely determined to do whatever it takes to hold the line between the wildfires and civilization, these smoke jumpers are the ultimate bad boys of summer who ride into town to protect and defend — and leave when the flames are out.
Smoke jumping is adventurous and Evan's never been the kind of man who sticks around. When the fire call comes in, he goes out. Plus, the sheer danger of what he does makes long-term relationships difficult. Faye Duncan, newly divorced photographer on a mission, knows all about firefighters. Her ex was a fireman for an L.A. firehouse. So there's no way she's getting involved with another man who fights fire. She's tired of being second to the flames and the fire calls and even the boys at the firehouse. Still ... there's something about Evan Donovan. He's a big, scary bastard and the pure size and heat of him screams danger. And sex. Faye looks at Evan and she knows what she wants. Him.
Evan Donovan will never stop jumping and he'll never be tame, but there are some dangerous things he won't consider once he falls head-over-heels for Faye ... because now he's in it for the long haul:
No more jumps over fifteen thousand feet. And he'll land near the fire but not in it.
No more landing in trees. Sure, the gear is padded and he's got a knife, but hanging up in a ponderosa pine two hundred feet above the forest floor isn't funny any more.
No more blowups. He'll keep an eye on his team's safety zone and pull the boys back before the fire rages out of control and they have to shelter in place in a canyon or breakout the dreaded shake-and-bake emergency shelters.
Fewer explosives. Sometimes, a well-timed explosion is the only way to halt a fire in its tracks and of course his pack still contains fusees but... using them less would be wise.
Sex in the jumpers' airplane hangar. After all, you never know who might walk in. Or when. (Well, okay... he's still doing this one, but he might invest in a lock for the door!)
You can pick up a copy of Slow Burn, available in stores and online now. And for more sexy Romantic Suspense heroes, visit our Everything Romance Page.
GIVEAWAY ALERT: Three lucky readers will win a copy of Book #1 in Anne Marsh Smoke Jumpers series, Burning Up. To enter, answer the following question: What's the craziest thing you have ever done for an adrenaline rush? Maybe you have gone skydiving or went swimming with the sharks — we want to know. Enter your answer in the comments below or email them here with the subject line "Anne Marsh Smoke Jumpers Giveaway". The giveaway is open internationally and winners will be announced April 15. Good luck!