How Anne Rainey Made New Jersey Sexy - With Giveaway!
Thu, 04/18/2013 - 10:51am — admin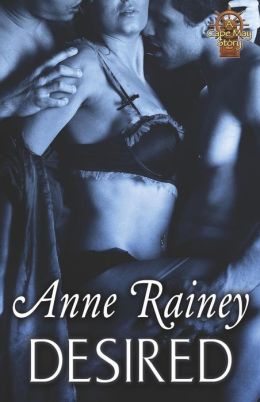 No matter how much you loved The Jersey Shore, New Jersey isn't exactly a place known for its sex appeal. But author Anne Rainey has managed to add some sizzle to the Jersey beaches with her erotic Cape May series, focusing on a seaside bed & breakfast with some rather adventurous guests and an owner looking to explore. Her latest release, Desired, features three novellas set in the vacation town, and we were dying to know why the author chose New Jersey as the setting for this series. Here's what she had to say:

Well, the interesting thing about writing romance is you can sort of draw on your own life experiences. It's so much fun to take a situation in my past, twist it around, dramatize it a bit and make it into the story I never had, but secretly wanted.
That's sort of how the Cape May series came about. I have family that lives in New Jersey. I used to spend a lot of time in the summer with them. Some of my favorite memories are of walking up and down the boardwalk with my cousins and relaxing on the beach with some delicious salt water taffy. Not necessarily Cape May, but a spot nearby. I had great fun there when I was a teen. I suppose I wanted to bring a little of that youthful, wild excitement to the pages of Desired. The New Jersey shore rocks, what can I say?
Thing is, I've always been a good girl. Quiet and shy, even as a teenager. More often than not I had my nose in a book and my head in the clouds. I was a daydreamer. I grew up with three brothers and zero sisters. Plus, I'm the youngest. It's a little like being an only child, with the exception of getting teased on a regular basis. I tended to go off on my own a lot and wish I were bold enough to do something wild and impulsive. Be less shy, less good.
One summer, I came really close to having my wish come true. Imagine this; it's the middle of summer, you're a teenage girl on a sandy beach and there are no parents around to supervise. This particular shy teen finally had a chance to let loose. What happened? Well, all I'll say is that it involved some hot guys, a cool breeze and no rules!
So, now you know how I came up with Desired. Heck, I think my inner wild child is still trying to break free, but I tend to keep her under lock and key these days. LOL
- Anne Rainey
GIVEAWAY ALERT: So, confess! Do you have a secret wild child, and have you ever let her out to play? Leave your answer in the comment section and you're entered to win a $25 Barnes and Noble gift card from the author. You can also e-mail your answer here with the subject "Anne Rainey Giveaway." This contest is open to international readers. A winner will be announced April 25.
BLOG UPDATE: The winner is Ginger Robertson.
You can pick up a copy of Desired, available now. For more sexy romance visit our Everything Erotica Page.