How Marilyn Pappano's Son Inspired Her Wounded War Hero
Wed, 07/24/2013 - 11:11am — admin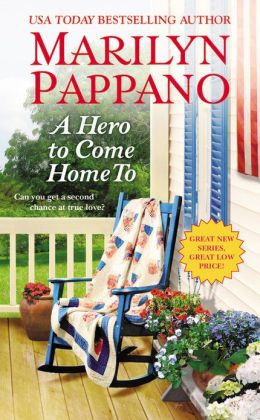 Writing a wounded war hero can't be easy. After all, the research that's involved is not only difficult, but can be heartbreaking. Especially if it involves talking to your own son, a soldier. Today author Marilyn Pappano tells us how her son, an Airborne soldier, and her husband, a retired Sailor, helped her gather stories and articles about injured war veterans to help craft the hero of her latest romance, A Hero to Come Home To.
When I came up with the idea for the Tallgrass series, I knew the hero of the first book, A Hero to Come Home To, would be a wounded warrior. Thanks to the quality of medical care provided, many troops in the Iraq/Afghanistan wars have survived injuries that would have been fatal in previous conflicts. They face lifelong treatment for traumatic brain injuries, burns, bullet wounds, post-traumatic stress disorder, and amputations, among others. There are currently in the neighborhood of 1,600 amputees among our desert veterans.
I'd read a lot of news stories about the extraordinary warriors who adapt to this new normal with strength, humor, and grace, but as I considered the character of Staff Sergeant Dane Clark, I wondered about the guys who find adaptation harder, who struggle with the way they once were and the way they now are. They're grateful to have survived, but damned if they aren't having a tough time accepting their personal "new normal," complicated by the feeling that their regrets are petty or self-pitying because, hey, they're alive. Every one of the 5,000+ casualties would have jumped at the chance to come back to their loved ones, even if it meant leaving an arm or a leg behind.
But feeling petty or self-pitying doesn't change the fact that their lives are different, and always will be. That hand, that leg, isn't going to regrow, and no matter how good the prosthetics, life is still easier, more comfortable, and people are more accepting of you with your own hands, your own legs.
A lot of the writing about Dane was ... I don't want to say easy, because it was very emotional. But I had the first-hand resources. My husband is a retired Sailor whose experience in combat and knowledge of medicine provided me with tons of information and the help needed to understand it. Our son is an Airborne soldier who did a tour each in Iraq and Afghanistan. He shared a lot of stories, photographs, and videos. He came home safely, but many of his friends returned seriously injured. Many of them didn't come back at all.
Young men. Boys. Some of the paratroopers who didn't come back didn't look old enough to be that far from home. Even the ones who did survive were forever changed by the experience. And though I did my service as a spouse and a mom here in the safety of Oklahoma, I was changed by the experience, too. I learned it's one thing to have your husband deployed under dangerous conditions; it's another to have your child there. In the early months of the Iraq war, our son wrote about his squad hanging out at their base, hearing shots nearby, grabbing their gear and running toward the sound, and finding his good buddy, caught in an ambush. They tried frantically to save him though his injuries were obviously unsurviveable. Our son was twenty-two, the squad and his buddy the same age or younger.
Former Marine Corps Commandant General Paul X. Kelley once asked, "Lord, where do we get such men ... of courage — such men of dedication — such men of patriotism — such men of pride?"
My goal with the Tallgrass series is to write about those men — and women, too — along with the people who love them. I want to honor the courage, the dedication, the patriotism, and the pride of the people who serve and the ones who wait for them, miss them, and all too often lose them. I just hope the series does them justice. 
- Marilyn Pappano
If you want to meet A Hero to Come Home To, make sure to pick up Marilyn Pappano's book available online and in stores now! For more soldier heroes visit our Everything Romance Page.