How A Visit To A BDSM Club Inspired A Series Of Anthologies — With Excerpt!
Thu, 05/26/2011 - 2:18pm — admin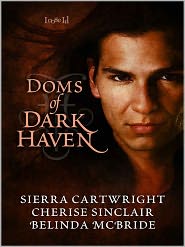 A couple years back, authors Cherise Sinclair and Belinda McBride took a "research fieldtrip" to San Francisco's Citadel, a well-known BDSM club. After their evening at the Citadel, they sat down to exchange notes on the experience and realized how differently they experienced the club. One thing led to another, and they decided to pitch a BDSM anthology to Loose Id. The idea would be three different women visiting a fictional club called Dark Haven on the same night. Fellow author Sierra Cartwright came on board and this month's Doms of Dark Haven was born. Today the authors answer our questions about the anthology and discuss what's coming next ...
***
Cherise, you say that to you, a club like Dark Haven is a bit like a small community. Can you elaborate on that?

Cherise: Some private BDSM clubs really do have an ambience much like a small town: the people support each other, celebrate victories and disappointments. There are those who've been around forever, and newbies who need to be made welcome…and more. 

In Dark Haven, a newcomer, overwhelmed by the noise, the scenes, the people, will be greeted by the owner of the club. My Liege Xavier handles everything from arbitrating disagreements to punishing impertinent submissives, and he definitely keeps an eye on new Doms as well as any unclaimed sub entering his domain. So if one poor submissive had a horrible experience in her past—it's difficult to keep secrets in small towns or BDSM clubs, right?—then he'll exert his control and see that she gets the best Dominant to push her past it…whether she thanks Xavier for his help or not. LOL. 

How did you come up with the heroes for your stories? 

Belinda: When we first floated the idea of a Western theme night at Dark Haven, I immediately thought of Tex. He'd appeared in a Truckee Wolves novella I wrote called "Toxic". I knew from Tex's bio that he was a bit of a player, a very naughty boy with a heart of gold. Tex was a cowboy, so the western theme was a natural for him. Tex was also destined for a ménage, so I needed a partner for him. Hunter is one of the "damaged wolves" in the Pack. He's also Tex's protégé in a construction business. Because of his upbringing, he doesn't really know how to love and be loved. Holly has been the center of his universe, yet he lacks the skills to build a relationship with her. So without Tex, there's no Holly and Hunter. Tex has a big job in this book. He needs to tame his little wolf-girl Holly, and he needs to help Hunter develop trust and self-confidence. 

Sierra: I fell in love with Master Trevor from the moment Belinda and Cherise conceived of Doms of Dark Haven 2: Western Night. I live in Colorado and grew up in England watching old Westerns. I loved the scenes that involve poker games for high stakes. A high-stakes game was right up my alley, especially if one of the players was tall, dark, handsome, talented, noble, and if a week with the heroine depended on the turn of a single card. 

Cherise: Virgil first appeared in Master of the Abyss, one of the heroine's three overprotective cousins. He's a strong man and a good cop, with a quiet sense of humor and definite ideas of what's right and proper. Needless to say, when his little cousin fell in love with a sexual Dominant, Virgil was shocked. Horrified, in fact. Then when the Dom broke his cousin's heart, Virgil set aside his badge, ready to pound him into the ground. I admit it—I fell for this tough guy who wanted so badly to protect his cousin. Only one problem—I could hardly write a BDSM story around a man who was appalled by the very idea.

Not long after that, some readers asked me to write a story around an inexperienced Dom. Hmm. I wondered: what would happen if this very conservative, small-town cop wants to be sure his cousin will be safe, so he checks into BDSM…and discovers he likes it? He's always had an authoritative personality, but what if openly dominating a willing woman fills a need that he's not sure he can give up? What happens if he falls for a submissive? And so Virgil's story: "Welcome to the Dark Side" was born. 

How about your heroines? What inspired them? 

Sierra: Shelby came to me while I was hiking. I thought of her as woman who loved sex but was a bit bored by the ho-hum sex she's experienced. She wants something more. She's hooked up with Master David, but he's always been a really good friend, and she has never been really able to get into a BDSM scene with a friend. She pushes the obedience envelope and he lets her get away with most things, rather than ruining their friendship. She dreams, though, of being with a Dom who's firm and unyielding, a Dom who will not put up with nonsense, a Dom who will take her to the edge but never let her fall off.

Belinda: Holly was slippery in the beginning. I knew she had a bad history, but I didn't want her to be fearful of her men or traumatized by her past. I also didn't want her to be a submissive; she's a dominant woman and as part of her courtship (because in reality, she's running the show) she willingly submits to her mates. Of course, she's topping from the bottom the entire time! Or trying to, anyway. And thankfully, like the other heroines in the Truckee Wolves series, she has a whimsical sense of humor that lightened things up a bit. 

What is the appeal in writing BDSM romance?

Sierra: I cut my teeth on romance novels, and I love everything about them. I primarily read romance for the emotion. There are a host of novelists whose books have gotten me through some really tough times in my life. Erotic romance with BDSM has taken the best of the things I love—emotion and sex—and blended them in toe-curling new ways. Falling in love has always been about connection and trust, and to me that's especially true for BDSM romances. Not only do my heroines have to trust the hero with their heart, but also with their bodies to an extreme level. If you're going to let someone tie you, tie you down, put a blindfold on you, there has to be a whole lot of trust, and the hero, or Dom, has to be careful to use that trust in the submissive's best interest…even if it is only for a week.

Cherise: With BDSM, open honest communication is essential. Often, in a vanilla relationship, as long as things go well—she gets off often enough, he always does—there isn't much exploration of "what else is there" or
"what are your needs." In fact, often the man figures that since he has a big dick, his girlfriend should be delighted with his performance. (Sound familiar?) This doesn't happen all the time, thank goodness, but as I think back to my younger days, it certainly wasn't uncommon.

In contrast, with BDSM, it's discuss first, then touch. And we're not talking about, "Are you on birth control?" "Can I spend the night?" Oh no. Just think about some of the questions the Dominant might ask. "Do you enjoy being spanked? Restrained? How do you feel about humiliation? Anal sex?" Right then and there, you're going to have to open up, possibly far more intimately than with your last boyfriend. : - ) 

Then there's emotion. Do you remember a time or two during sex when you got…closer…to your partner? When the sex transcended the physical, somehow shut off your mind, and opened your emotions wide? That stunningly vulnerable moment when you and your partner seemed to be one person?

That's one of a Dominant's goals in a BDSM scene, whether sexual or not—shutting off the submissive's mind and opening her heart. BDSM is intended to get to the core of a person, not only for the sub, but the Dom as well. And what is more important in a romance? 

Belinda: I'll be honest, writing BDSM romance never occurred to me at all, until reviewers (and readers) kept mentioning the D/s elements in my books. LOL! I have two goals in writing any romance whether it's vanilla or kinked. First, an emotional catharsis…and not just for the submissive, but for the Dominant as well. They have to be changed by their experience. Sometimes we need to be pushed to the edge of our emotions. The experience is just as intense for the Dom as it is for his or her sub. Secondly, I'm all about play. Since I write a lot of shapeshifters, I watch animals and there's a distinct element of D/s in the animal kingdom. There's also play within the courtship. Most of my characters would never set foot into a club. In their perception, they're completely mainstream. But like the average person, they often play without really realizing it. That's one of the brilliant things about the genre: it can run the gamut from very mild and kinky to extreme levels of play. There's something for everyone. 

It's been such a great experience for us that we recently released a sequel called Doms of Dark Haven 2: Western Night. We'd like to thank RT for inviting us to talk a bit about the new book.
***
To find out more about this BDSM series, you can check out Doms of Dark Haven and Doms of Dark Haven 2: Western Nights which are both available now. You can also learn more online at www.domsofdarkhaven.com, and then hear from each of the authors at about Sierra's website, Cherise's website and Belinda's website. But don't miss your chance to enjoy this steamy excerpt from the series starter!