Hump Day Excerpt: Given By Kelli Maine
Wed, 03/05/2014 - 11:27am — admin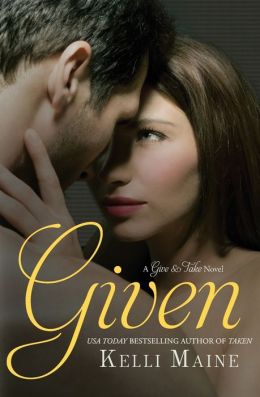 Mardi Gras might be over, but there's still reason to celebrate! It's hump day y'all! The weekend is in sight and we've got another steamy erotica excerpt to help get you through the day. Today we have a scene from Kelli Maine's final installment in her GIve & Take series, Given. Enjoy!
I lowered the phone from my ear. We stared at each other.
"Get what you wanted?" he asked, his tone dark and menacing.
"She said to take the train to Nice-Ville."
He shook his head. His impossibly dark eyes like granite pierced into mine.
"You're pissed," I said. "I knew you would be."
Hands on his hips, he took two steps toward me. "You did it anyway."
"Your judgment's clouded when it comes to Nadia." I sank onto the patio chair behind me, gripped the front of Merrick's pajama bottoms, and pulled him another step forward between my knees.
He glared down at me. "My judgment's clouded?"
"You want to trust her, so you do."
"So you take matters into your own hands?"
I leaned forward and grabbed the drawstring on his PJ bottoms with my teeth, pulling the bow free before hooking my thumbs into the waistband and tugging them down to drop at his ankles. Looking up at him, I ran my hands up his bare thighs and took his cock in my hands. "Yes. I'm taking matters into my own hands."
You can pick up a copy of Given now, available digitally and in print. And for more steamy reads, visit our Everything Erotica page.