Hump Day Excerpt: Giving In By Maya Banks
Tue, 04/15/2014 - 1:29pm — admin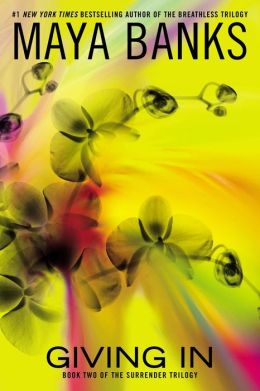 Another hump day is upon us, which means it's time for another erotic excerpt for you to enjoy! To help get you over the midweek slump, we've got a scene from Giving In by Maya Banks (we posted an excerpt from the first book in this series, Letting Go, here). This book is different from Banks's usual work in that the couple doesn't have sex until more than halfway through the story, due to abuse in the heroine's past. Because we don't want to spoil the big moment for anyone, this excerpt is a bit on the tamer side, although it's still an emotional moment between the hero and heroine. Enjoy!
Kylie awoke to a completely alien sensation. She laid there, trying to process just what was different. She felt . . . rested. No lingering darkness from nightmares. She felt . . . safe.
It was then she registered the fact that she was not alone in her bed. Not only was she not alone, but a very male, very hard body was wrapped protectively around her and her head was pillowed on a muscled shoulder.
Jensen.
Oh God.
Memories from the night before—humiliating memories—crashed through her mind like a landslide. She'd made an utter ass of herself. Completely fallen apart on him. For God's sake, she'd handcuffed him to her bed.
"Remember your promise, Kylie."
You can pick up a copy of Giving In, available digitally and in print, May 6. For more steamy reads, visit our Everything Erotica page.