Hump Day Excerpt: Maya Banks' Letting Go
Wed, 02/12/2014 - 12:31pm — admin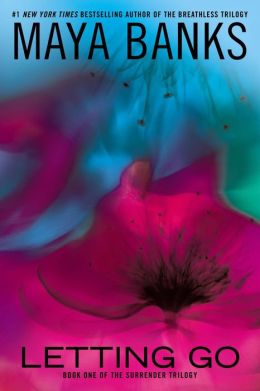 It's hump day, hooray! Only two more days until the glorious weekend. We hope you have something fun planned, whether it be spending time with your sweetie or gorging on Netflix and discounted Valentine's Day candy. To help get you over the midweek slump, we've got a scene from Maya Banks' Letting Go. In this scene widowed heroine Joss is confessing her submissive fantasies to Dom hero Dash — desires she never dared to share with her late husband. Enjoy!
"I'd like to hear what it was you planned as well, Joss," Dash prompted gently. "What was tonight all about?"
Joss turned away, turning her fingers into tight fists. "I know you don't think I have a clue what I was getting into, Dash, but I'm not stupid. I didn't just up and decide to go to The House. It's something I've thought about and researched for months. I talked with Damon Roche a lot. He wanted to make sure I knew what I was getting into and that I wasn't making a hasty, emotional decision."
Well, thank God for that. Damon was a solid guy. He may run an establishment that catered to every conceivable kink or fetish, but he took it very seriously and he vetted his members very carefully.
"But it's like I told you today, Dash. Carson is gone. He's not coming back. And I have to pick up and move on. I can't mourn him the rest of my life. I need . . . I want . . ."
She faltered and Dash simply waited for her to collect her thoughts because this was huge. He was learning a side to Joss he never suspected existed. How could he have?
"I have to know if what I think I want and need is true. I have this need inside me, Dash. It's an ache, a hole in my soul that's even larger now that Carson is gone. I loved him too much to ever ask or demand that he give me something he wasn't capable of. And it sounds like I was unhappy. God, I wasn't! I loved him, Dash. I loved him with all my heart and I don't regret a single thing about our marriage."
"I know, honey. I know," Dash murmured.
"But that need has always been inside me and I can't even explain it to myself, so how can I make you understand that this isn't a game? It isn't me being irrational and looking to fill a void left by Carson's death. It's always been there. Always."
"Try me," Dash said simply. "Tell me what it is you want. What you need. I'll listen, Joss. And I won't judge you. I'll just listen and we can talk about it."
Relief shone in her eyes. Had she expected condemnation? Had she expected him to accuse her of being disloyal to Carson or his memory?
"I want to be . . . owned."
You can pick up a copy of Letting Go now, available digitally and in print. For more steamy reads, visit our Everything Erotica page.