Hump Day Excerpt: Telling Tales By Charlotte Stein
Thu, 02/27/2014 - 2:01pm — admin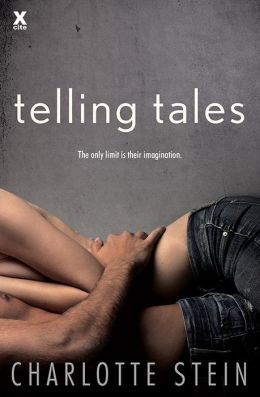 We know, we know. We missed hump day. Sorry to deprive you of your weekly smutty excerpt, readers. But there's nothing wrong with a belated celebration! And now we're one day closer to the weekend. To help get you in the mood for two work-free days, we've got not one but two entire chapters from Telling Tales by Charlotte Stein. It's the story of a group of old college friends who reunite and find they have a lot more than friendship in common. Enjoy!
In my head, I fucked him the first opportunity I got. I didn't wait for some perfect time, some perfect place, some perfect convergence of events. I just kissed his sweet mouth right in the middle of him telling me something funny or ridiculous, like—peas are green because they ate too much spinach—and then when he couldn't quite gather himself after something like that I took his hand and pushed it between my legs.
Or maybe in this dream scenario I could have taken my hand, and pushed it between his legs. I spent so many nights in college, thinking about how his cock would taste and feel. It doesn't take much to shove my imagination into a slightly different sort of area—one where I unzipped his jeans and licked long and wet over the length of him, while he sat back and simply…let me.
That's all we were missing, after all. Him letting me. I mean, it wasn't as though I ever asked or tried to fuck him or any of that stuff, but it was always in my head. That I would make a move on him and he would knock me back, and then I'd lose that bubbling bright friendship between us forever.
Funny how I seem to have lost it anyway. I didn't even try, and I've lost his friendship anyway. It's been five years, for God's sake. It's been longer, according to Professor Warren's letter, and for a moment I'm just so lost on a sea of trying to remember Wade Robinson's face.
I'm lost, thinking about things that never happened—his mouth on mine in the back of Kitty's old Ford Escort, fingers sliding slickly through my ever-ready cunt. How many girls did he do that with? Too many to fucking count, but never to me.
No—I got to sit upfront and pretend I couldn't hear him making out with Tammy or Candy or Veronica, while Joan Jett blasted out from the radio and Kitty shouted at me that we should really actually pick up some boys some time.
Instead of letting ourselves escort Wade the make-out machine around.
Of course, Kitty soon got into the swing of things. She was my little cloud of blonde loveliness, and she floated through the rest of college on a tide of too-happy. And I was happy too, I was. I really was. We had a great time together—me, Wade, Kitty and Cameron.
So why am I looking at this letter with dread?
You can pick up a copy of Telling Tales now, available digitally and in print. And for more steamy reads, visit our Everything Erotica page.