Ilona Andrews To Pen More Kate Daniels Books
Wed, 02/06/2013 - 11:22am — admin
***Warning: Minor Spoilers Ahead***
In a blog post this week, Ilona and Gordon Andrews announced that they are making some changes to their Kate Daniels series. The biggest news being an increase in the number of books! They have decided that seven books just wouldn't be enough to finish the epic adventures featuring Kate and Curran, so they have decided to expand the series. Readers can expect four more books over the next four years.
The authors, writing as Ilona Andrews, have had an incredible run so far with their award winning urban fantasy series featuring the weapon-wielding mercenary Kate Daniels. In the 2007 series starter, Magic Bites, heroine Kate is living in a world where technology and magic are constantly at war and Kate must solve the murder of her mentor/guardian. 
Kate's Atlanta is populated with humans, shape-shifters and the Masters of the Dead (necromancers and the vampires they control). The heroine finds (or makes) trouble where ever she goes, and when Beast Lord Curran makes his first appearance, Kate's smart-ass mouth nearly brings them to blows. Attracted to the powerful shifter, but knowing her secret lineage should keep them apart, the next few books in the series include a complex will-they-won't-they relationship that winds in and out of some excellent magic-filled adventures — often ending with some awesome swordplay from Kate.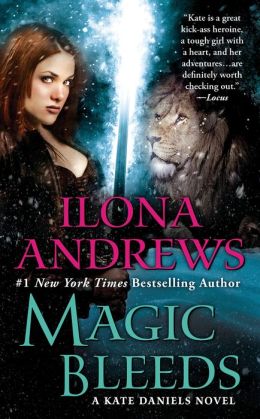 Kate's mating with Curran at the end of book 4, Magic Bleeds, is long anticipated, but actually becoming partners with an uber-alpha Beast Lord (and dealing with all the shifter Pack politics) only adds to the complications of Kate's life. Plus looming throughout the series is the inevitable upcoming confrontation with Kate's legendary father, Roland. With all of this, it doesn't surprise us that the authors need more time to wrap up series' loose ends.
Gordon and Ilona are dedicated to making sure to not leave anything unresolved in the series. They say that they learned this lesson well with their other paranormal series, the Edge. The authors wrote to their fans:
We've received a very large volume of emails that told us that you were not satisfied with the ending of the Edge. A lot of you loved the Edge books but felt that the ending left too much to the future: kids growing up, Spider not being dead, Richard's face slowly reverting back to normal, and so on. We don't want to leave you in the same position with Kate series. You have made this series a terrific success. We want to make sure that it ends well.
So how did they know that the ending just wasn't right for the book they were writing? They said that while editing the next book in the series, Magic Rises, they felt they had a "200K plot crammed into 100K book". So with the support of their publishing house and editor, the Andrews are reworking Rises, which is still slated to release this summer. They are also getting ready to start on Book 7, which will include a confrontation between Kate and her infamous father. 
We want to know: Is more always better or do you enjoy shorter series arcs? Tell us in the comments below. And for more genre news, make sure to check out our Everything Paranormal & Urban Fantasy Page!