Inside Andrea Kane's The Girl Who Disappeared Twice – With Giveaway!
Mon, 06/06/2011 - 1:50pm — admin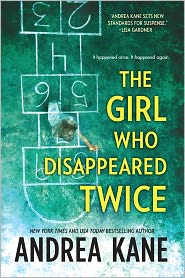 Have you ever wondered what is actually in the personnel files of your favorite fictional detective? Today Andrea Kane satiates your curiosity with a sneak peek into the files of three members of the Forensic Instinct team. Get an up-close look at these investigators racing against the clock to locate The Girl who Disappeared Twice, the new series starter — and RT Top Pick — from mystery mastermind Andrea Kane. (And don't miss your chance to win this new suspense story at the end of the post!)
***
From the personnel files of Forensic Instincts… 
NAME: Marc Deveraux 
AGE: 39 
SEX: Male 
CULTURAL BACKGROUND: Asian (maternal), French (paternal) 
EDUCATION: United States Naval Academy, Special Operations Training, FBI Academy, FBI Behavioral Science Unit 
LANGUAGES: English, Mandarin, French, Spanish 
TALENTS: Covert operations and surveillance, stealth and speed, sniper-like focus, situational analysis skills, gridiron strength and stamina, little need for sleep, enthusiast of extreme sports 
EXPERIENCE: Former FBI, former Special Agent in Behavioral Analysis Unit, former Navy SEAL. Four years with Forensic Instincts. 
ASSESSMENT: Honestly, I don't know where I'd be without Marc by my side. He's gotten me out of more tight spots than I care to admit, from being my backup muscle while undercover in the field, to just employing that steady resolve and steel gaze of his to make any situation seem more controllable than it really is. Forensic Instincts certainly couldn't survive without him.  
It's that ability to channel his energy and clearly read a situation that is perhaps most amazing to me in light of his extreme nature. Marc is a thrillseeker, plain and simple. Even by Navy SEAL standards, he is an adrenaline junkie, always seeking his next high.  His level of confidence and his talents are so compelling, and his willingness to push the limits in order to win is so intense. 
Perhaps the greatest of his many assets, however, is his deep commitment to achieving justice and equity. While he may be a wolf in hand-to-hand combat, he has a soft spot for children and is a champion of the innocent. 
**
NAME: Ryan McKay 
Age: 28 
SEX: Male 
CULTURAL BACKGROUND: Irish 
EDUCATION: Self-taught, dropped out of MIT 
LANGUAGES: English, C++, Java, Ruby, Perl, Python, Fancy, Go 
TALENTS: Game theory, technology mastery, robotics, computer coding, algorithmic analysis, hacking, mountain biking, ultramarathons 
EXPERIENCE: Four years with Forensic Instincts. 
ASSESSMENT: Ryan's a techno-genius. Also hot, by anyone's standards.  But mostly a genius. It's almost impossible to evaluate him, since I barely understand what he does with all his computer programming, all that number-crunching, and all those robotics of his—especially that otherworldly Gecko toy. Especially hard for me to conceive of is Yoda, Ryan's proudest invention, the omniscient and invisible voice of Forensic Instincts. Whatever Ryan does, though, keeps the team in forward motion, and I know he'll always dig up that elusive factoid or use his mastery of abstract reasoning to put together pieces of a puzzle in a new way, right when we need it. I do worry about him, though. How can anyone possibly keep his pace up, both mentally and physically? (Well, I know that caffeine is one way. And look at me, worried about someone being too good,too motivated.) On the other hand, I can fully function on no sleep. Ryan can't. 
Moreover, the guy's a walking contradiction when it comes to women. He hates the attention-seeking types of girls who fawn all over his smoldering Black Irish looks, six-pack abs, and broad shoulders. Sometimes I think they're not even a blip on his radar. On the flip side, he spends very few nights alone, and has no trouble using his charisma for the good of the team. And then there's Claire Hedgleigh. The sparks between them are lethal. And she certainly challenges his complacency.  If—no, when—they're finally together, she'll keep him on his toes and remind him that not everything can be strategically controlled.  
Overall, though, he has the predatory skills and perseverance to compete virtually and in real life against any opponent I've met yet. Ryan is the solid third side of the triangle upon which Forensic Instincts is built. 
**
NAME: Casey Woods 
Age: 32 
SEX: Female 
CULTURAL BACKGROUND: German  
EDUCATION: Master's Degree in Forensic Psychology from John Jay College of Criminal Justice, BA in Psychology from Columbia University 
LANGUAGES: English, German 
TALENTS: Leadership and drive, innate ability to read people and figure out what makes them tick, out-of-the-box thinking, team motivation, bureaucracy wrangling 
EXPERIENCE: Extensive work with both behavioral and psychological profilers, four years of working with law enforcement and the private sector. Four years as President and Founder of Forensic Instincts.  
ASSESSMENT: Since self-assessment is biased, therefore this is non-productive. 
***
GIVEAWAY ALERT: Five lucky winners will each receive a copy of this new suspense tale. To enter tell us which of these investigators you can't wait to read more about. Or email your comment here with your US mailing address and the subject line "Andrea Kane's The Girl Who Disappeared Twice Giveaway." Winners will be announced on June 20.
BLOG UPDATE 6/8/2011: The Giveaway will now also include flash drives with bonus insider information about the author and her new series starter!
BLOG UPDATE 7/8/2011: And the winners are ... J.L. Campbell, Debbie Haupt, hafelina, Anne M-SC and Sami