Inside the Latest Wolf Tales Novel! - With Giveaway!
Thu, 12/30/2010 - 2:25pm — admin
Kate Douglas talks about the latest addition to her steamy Wolf Tales series. The Chanku have been warming up the hearts, and spicing up the dreams, of readers since 2006. Now Douglas stops by to chat about the heroes she can't bear to part with and the new danger that threatens the pack. And don't miss the very special giveaway at the end of this post!
Thanks to RT for inviting me to blog here on the Everything Erotica page. The timing couldn't be better. This week marks the release of Wolf Tales 11, the twentieth story, counting anthologies, of my über-sexy series that launched Kensington's erotic Aphrodisia imprint back in January 2006. I've had such a wonderful time getting to know my characters over the years—Wolf Tales is written like a soap opera, with the story-line continuing from book to novella and on to the next book, one into the next, more like a serial than a series with stand-alone stories. The best part is that the same characters have returned in book after book, which has allowed me to really explore the various members of the Chanku packs.
 
Of course, the downside is that I've grown way too attached to some of them—über-alpha Anton Cheval, my wizard/shapeshifter who is the pack leader, Mik Fuentes and AJ Temple, guys who began as cellmates in Folsom Prison and ended up as best friends and lovers—to each other as well as to Tala Quinn, the young woman they saved from an abusive pimp. There are Jake and Baylor out in Maine, and Stefan Aragat, a man who is like a brother to Anton, the one he loves as much as he loves his mate Keisha. I feel as if I know each one of them personally—they're not just my imaginary friends, they're real people who may have been born in my imagination, but they've definitely taken on real lives. After this latest Wolf Tales, there's only one more that will officially end the series. I just finished copy edits on it tonight, and believe me, it's going to be really hard for me when it finally releases!
 
But I really want to tell you about Wolf Tales 11. I generally write without a preconceived plan, which means the stories can take some unexpected twists and turns. This latest book got a little squirrely on me, and I wasn't certain what would happen until I actually wrote the final pages. The Chanku have been threatened in the past, but never like this--Lisa and Tala, both in the final stages of pregnancy, become pawns in a plot to assassinate the president of the United States. Anton has a plan, but it requires a sacrifice even the wizard hadn't intended to make, and his salvation comes from a most unexpected source. For a while, I wasn't sure HOW I was going to get him out of this latest mess, but everything finally came together exactly the way it should. (And yeah, I DO love it when that happens!)
 
I've got first chapter excerpts of all the books and novellas on my website at www.katedouglas.com/eroticromance Adults 18 or older, please, as they are all quite explicit. They don't call this erotic romance for nothing! And if you have any questions at all about the series or the characters, please feel free to ask. I'll be checking in regularly.
- Kate Douglas
You can check out all of the heat and adventure in Wolf Tales 11 on shelves now!
GIVEAWAY ALERT: One lucky winner will receive a signed copy of the very first Wolf Tales! To enter leave a comment on this blog about why you love to read about shapeshifters in erotica. Or email your comment here with your US mailing address and the subject line "Kate Douglas' Original Wolf Tales Giveaway." One entry per person, please. The winner will be announced on January 13th!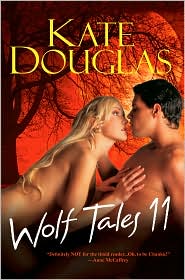 BLOG UPDATE 1/13/11: And the winner is ... Toni Steiner!