Inside The Pages of A Harlequin Christmas Carol
Mon, 11/15/2010 - 1:25pm — admin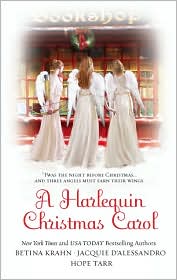 In this month's release, A Harlequin Christmas Carol, three romance writers team up to add a new twist on the classic holiday tale A Christmas Carol by Charles Dickens'. But instead of using ghosts, authors Betina Krahn, Jacquie D'Alessandro and Hope Tarr each sub in angels-in-training to help three couples find true love. The stories are connected through heroines who have been meeting during the past few years at a monthly book club. And despite the differences in the women's life circumstances and stations, they have formed a tight knit and lasting friendship. Read on to learn how each author connected with the Dickens' story and how they prepared to take on Christmas Past, Present and Future in the delightful anthology that RT Reviewer Pat Cooper calls "charming, sexy and so overtly romantic that your heart will flutter."
"Today's Longing" by Jacquie D'Alessandro
My first experience with Charles Dickens' A Christmas Carol came in the form of an animated Bugs Bunny cartoon on tv when I was about seven years old. I recall being by turns sad (poor Tiny Tim!), scared (that ghost of Christmas future was frightening!), and delighted (Scrooge repents!). Never would I have dreamed that years later I'd have the honor of writing a story inspired by Mr. Dickens' classic tale, especially in the company of such wonderful authors as Betina Krahn and Hope Tarr! We did some tweaking to the story--turned the ghosts into angels--but the core elements remain the same as in Dickens' novel: hope, destiny, redemption, and most of all, love. In my story, "Today's Longing", Lady Adelaide Kendall is in love. Unfortunately, the object of her affection is promised to her sister, who loves another--and then it gets even more complicated! Only divine intervention can sort out this comedy of errors—in the form of the Angel of Christmas Present. A Harlequin Christmas Carol is my first Victorian-era story, and I hope you enjoy reading it as much as I did writing it! An excerpt is available on my website www.JacquieD.com. 
Happy holidays, and happy reading! - Jacquie D'Alessandro
"Yesterday's Bride" by Betina Krahn
Claire Halliday's betrothed died in a tragic accident one week before their Christmas nuptials, and in the four years since then, she has been plunged into mourning along with his family each holiday season. But this Christmas, sensible, sober, stuffy Cousin Ralph is arriving from India and the family oldsters drape the house with mistletoe. Claire is desperate to convince them that she wants no part of their matchmaking or the life they are planning for her. When Cousin Ralph arrives, he's nothing like Claire expects and she finds herself fighting a potent attraction, the meddling of the family elders, and the well-intentioned efforts of an apprentice angel bent on earning her wings. How can she resist a man with adventure in his eyes, the scent of spices in his skin, and a way of laughing that makes her toes curl with longing? - Betina Krahn
"Tomorrow's Destiny" by Hope Tarr
What they said—kidding!
Seriously, when Jacquie, Betina and I first got together for an online brainstorming session to come up with a theme for our as yet untitled anthology, it wasn't long before our email back-and-forth turned to Dickens' A Christmas Carol—and happily settled there. Who doesn't love a good story of transformation and redemption, especially at the holidays? Still, walking in the steps of a centuries' old literary legend makes for big boots to fill. And yet if mash-ups like Grave Expectations can tackle Dickens, why not we? We started out by making a few…improvements, notably substituting angels-in-training for Dickens' spectral spirits. No disrespect, Chuck, but apprentice angels out to earn their wings seem a lot more simpatico with the Christmas theme than ghosts. And because our anthology is a work of romance, our heroines' personal transformations bring about the very best gift of all: True Love!
In "Tomorrow's Destiny", my novella of Christmas Future, prickly Covent Garden bookshop proprietress, Fiona MacPherson faces turning thirty and losing her beloved bookshop, both by the New Year. Unearthly pale and sun blind, Tobias Templeton doesn't care a whit about the shop, but there's one book in particular he's convinced holds the cure for his curse. Can a nocturnal visit from Fiona's "Angel of Christmas Future" turn the tide toward Happily Ever After before it's too late? Stop by my web site at www.HopeTarr.com where you can read the excerpt and enter my holiday contest. Wishing you a holiday season brimming with mistletoe moments! - Hope Tarr 
You can purchase your own copy of A Harlequin Christmas Carol in stores now!