Inspirational Overview: October
Wed, 10/16/2013 - 12:23pm — admin
Loss is a powerful emotion, one that can feel too powerful to overcome. But through love, family and friends, we can indeed rise above it all and come out a stronger individual. This month's inspirational recommendations provide readers with heartfelt and uplifting stories of loss and those who found a renewed sense of life in spite of difficult times.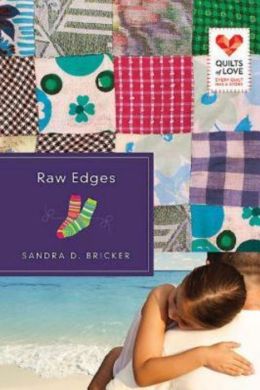 When Gray McDonough loses his wife to ovarian cancer, he doesn't think he'll ever recover from the loss. A year later, his nine-year-old daughter, Sadie, wants to join a cancer support group. At the group, Gray and Sadie meet Annabelle Curtis, a survivor, and a woman who will help ease their grief and open them up to love. Sandra D. Bricker's Raw Edges is sure to pull at your heartstrings in all the best ways.
Next we have Janice Cantore's Critical Pursuit, in which Brinna Caruso uses her own terrifying experience of being abducted to help find other missing children. She's partnered with Jack O'Reilly, a detective still reeling from the loss of his wife to a drunk driver. Despite not knowing if she can trust him, Brinna and Jack must work together to catch a kidnapper who might be tied to her past. Will Jack be able to overcome his loss and help Brinna find closure?
In the historical An Untamed Heart, Lauraine Snelling tells the story of Ingeborg, a woman with too many suitors. But when she meets Oslo, a university student, she begins to view her future in a different light. When an accident occurs, her future takes a turn for the worse. But a chance meeting with a widower and his son just might help her to move on.
Meanwhile, Jordyn Redwood brings her Redwood's Bloodline trilogy to an end with Peril, the action-packed and emotional story of Morgan Adams, a pediatric ICU nurse who blames herself for the death of her infant daughter. Her husband, Tyler, is involved in a dangerous medical study, which alters the minds of soldiers. Soon Morgan is held hostage by test subjects demanding answers. But the power of love might prevail after all, as Tyler will stop at nothing to save his wife.
And last, but not least, we have The Journey of Josephine Cain, Nancy Moser's historical tale of Josephine Cain, a young woman who needs the chance to get away from her mother, who is drowning in grief over Josephine's brother's death. Deciding to go west with her father, will Josephine find what her heart longs for?
Be sure to pick up these inspirational stories of loss and love from your favorite bookstore or online retailer today! And for more inspirational recommendations, visit our Everything Inspirational Page!