Interview With Cover Model Brock Gloor - With Giveaway!
Mon, 11/26/2012 - 11:39am — admin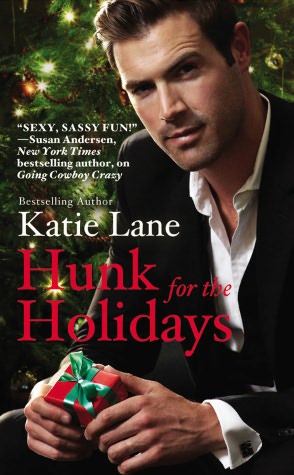 You might recognize Brock Gloor's irresistible All-American charm from the slew of TV and print ads he's done, that episode of Gossip Girl he made an appearance on, or perhaps the romance novel covers he has graced, the most recent being Katie Lane's Hunk for the Holidays (which we Dished about here). We had an opportunity to ask this handsome midwesterner a few questions, plus, we're giving away a Brock-themed box of holiday treats to one lucky reader! Read on to learn how you can win:

***
Let's just come right out and ask the question on every woman's mind after seeing the book cover. Are you single?
No, I am not single. I am married to the love of my life.
How did you propose?
We met at the fountain in Bryant Park, NYC. I proposed to her at that fountain five years later.
Do you have any brothers? (We ask hopefully.)
No, sorry.
How does a Midwestern boy dream of becoming an actor and model in the Big Apple?
The maze of success may change — cornfield or city street — but a mouse is a mouse at the end of the day, and the cheese is the goal. All you can do is eventually determine what the "cheese" means to you. 
I was raised by "Yes" parents that demonstrated by example where a hard work ethic could take you, and how a "Yes" attitude can keep you there.
What is the favorite ad that you have done?
My favorite ad was a commercial for Toyota. The location was in Taiwan, and we were shooting on a huge yacht in the middle of a beautiful lake. I was shooting with two other models, one guy from Estonia and another from Transylvania. They were probably thinking, "Where the heck is Nebraska?!"
Cosmopolitan magazine named you their "Most Eligible Bachelor: Nebraska" in 2006. How did that change your life?
It made somewhat of a hometown "hero." But far more important, I married the girl that nominated me for the issue.
You had a role on Gossip Girl. What was it like?
Ha! Yeah, out of all the things I have done, "Gossip Girl" gave me the most attention from friends and acquaintances. The majority was female but you would be surprised how many male followers there are for the show. My scene was with Serena (played by actress Blake Lively). She has been so successful on the show and an amazing canvas for the fashion industry. She was such a pleasure to work with, and you can tell she holds a lot of status on set. She was very professional in and out of character. It was an exciting experience. 
GIVEAWAY ALERT: We're teaming up with Grand Central Publishing to give one lucky reader a Brock-themed prize pack for the holidays! In the gift box are not only books featuring Brock's handsome face (including an autographed copy of Hunk for the Holidays), but a selection of treats and goodies to make your holiday extra special. Additionally, 25 runners up will win a copy of Hunk for the Holidays.
To enter, just sign up for Katie Lane's newsletter at www.katielanebooks.com now through December 3, 2012 for a chance to win this gift box. The winner will be notified via email December 4.  
Enter to win the prize pack above by signing up for Katie Lane's newsletter by December 3 here. You can pick up a copy of Hunk for the Holidays, available in stores now! For more romance visit RT's Everything Romance Page.