Introducing Debut Author Dixie Lee Brown
Tue, 03/12/2013 - 11:54am — admin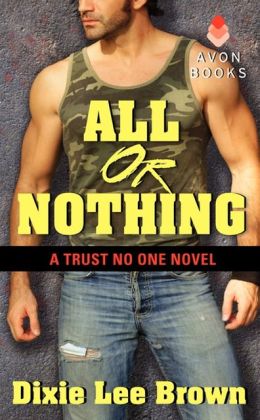 In April, Dixie Lee Brown debuts her first novel All Or Nothing. For the first book in her Trust No One series, the author takes one woman in peril, adds one bad ass mercenary and pits them against ruthless hitmen. We were interested to find out what makes this romantic suspense stand out from the pack, so we asked Brown's editor, Chelsey Emmelhainz to give us the inside scoop on All Or Nothing.  
I am thrilled to introduce the newest member of the Avon Impulse family: Dixie Lee Brown and her debut novel, All Or Nothing! When the manuscript of All Or Nothing first made an appearance at our weekly editorial meeting, there were oohs and ahhs all around. Romantic suspense has made a serious comeback, and Dixie leaves nothing behind with her fast-paced, heart-pounding action, clever twists, and fabulous characters (including some very sexy alpha males!). Her writing keeps you on the edge of your chair and up all night — you won't want to put this one down!
Dixie's personal story is special, and truly, a meant-to-be tale. Though she's been writing for two decades, All Or Nothing was the story idea that just wouldn't quit. At the time, she was working on Young Adult novel, but Joe and Cara began creeping in and, like many great story ideas, wouldn't go away until she stopped fighting and started writing. Now, we're very excited to bring Dixie's breathless romantic suspense to the world through the Trust No One series. Just like the team here at Avon, we're confident you'll be swept away by Dixie!
And remember, book two is coming soon. When I Find You, featuring Joe's brother-in-arms Walker, will be available this July!
- Chelsey Emmelhainz
If you are excited to get your hands on Dixie Lee Brown's debut novel, you can pre-order the Kindle edition for just $2.99. And for more suspense filled stories, check out RT's Everything Romance Page!