J.A. Redmerski Takes Us To The Edge Of Never
Tue, 05/07/2013 - 5:04pm — admin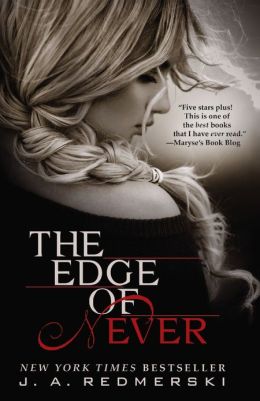 The New Adult is a genre rife with stories of young 20-somethings learning more about themselves and finding lasting relationships, and in J.A. Redmerski's The Edge of Never, heroine Camryn takes a big risk that pays off. Camryn leaves her North Carolina hometown abruptly when she decides to escape on a Greyhound bus after a wild night. Little does she know that the bus will lead her straight to Andrew, a guy who pushes Camryn to do more with her life, but also harbors some deep secrets. Today the author shares how much she has in common with her impulsive heroine and how her own life influenced her story. Plus, we offer readers a chance to try the story with an excerpt at the end of this post!

I think many authors live vicariously through at least one of the characters they craft in their stories. As for myself, I'm definitely among them. Camryn Bennett, the heroine in my novel The Edge of Never is twenty-five-percent me, twenty-five-percent fiction and fifty-percent who I would love to be even if only for one week. Her story started out much like mine where I dreamed about dropping everything and setting out on my own to backpack across the world. Really, it didn't matter if I was backpacking, cycling, driving or skateboarding (OK, maybe not so much skateboarding) all that really mattered was the traveling part. I've always wanted to do it for as long as I can remember. Yes, it has a lot to do with breaking free from life's monotonous mold (bills, dead-end jobs, having to call Customer Service) and stripping myself of most responsibility. But what inspires the dream more than anything is the chance to see the world and to experience the freedom and beauty that it offers.
Of course, I rarely took into consideration the dangers of traveling by myself, either. And I admit that the thought of being plucked off the side of the highway by the Route 66 Killer isn't very high on my list of things to accomplish. I guess things like this made it much easier to put poor Camryn out there rather than doing it myself.
As I mentioned, Camryn's journey began with my real-life dream, but like just about everything, it didn't quite turn out how I planned it. Camryn wasn't supposed to board a Greyhound bus. I never intended for her to meet this sexy, outspoken guy named Andrew Parrish. I never wanted her journey to be confined to the United States. Apparently, Camryn (just like me) had a mind of her own and before I knew it she was telling her own story about her exciting life on the road and I was just typing everything she wanted me to say.
Quite frankly, I'm jealous of her in a way. She got the guy. She was brave enough to let go of everything, to take a risk as reckless as it seemed and set out on her own. Did I mention she got the guy?
For now, while my children are still living at home I'm content with the bills and the monotony because they need their mom. But I will tell you that as soon as the youngest one moves out, I'm hitting the road.
Now all I need is that ever-elusive Andrew Parrish to join me on my journey. Y'know…just to keep the highway bad guys away. *wink*
- J.A. Redmerski
You can read an excerpt from The Edge of Never here. The novel is available digitally now and in print July 2. To learn more about New Adult books visit our Everything Young Adult Page.