Jane Austen With A Paranormal Twist
Fri, 10/08/2010 - 1:00pm — admin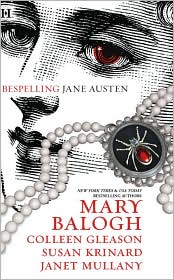 There have been many Jane Austen adaptations over the years - traditional retellings, contemporary spins (including my favorite, Clueless) and even the inclusion of a monster or two. This month readers can enjoy a whole new take on Jane Austen's beloved stories when four historical romance authors use Ms. Austen's characters as inspiration for their new paranormal anthology Bespelling Jane Austen. So how does one go about picking an Austen story to adapt? Find out here.
Susan Krinard writes "Blood & Prejudice"
Pride & Prejudice is my favorite Austen story. I like it most because Darcy is the kind of hero I really enjoy: standoffish, apparently arrogant, but also deeply compassionate underneath. He's a strong man who is also responsible, and it doesn't hurt that he's tall, dark and handsome! Lizzy, too, is my favorite kind of heroine: "spunky," acerbic, and a match for any man. How could I not love this story? (Plus, Darcy makes a fantastic vampire!)
Colleen Gleason writes "Northanger Castle"
There is something compelling about a woman who wrote more than two hundred years ago, who created such living and breathing characters that are still viable and fascinating today. How can one not appreciate Ms. Austen's insight and humor into humankind? As a voracious reader who cut my teeth on Nancy Drew, Trixie Belden and the Three Investigators, and had my own fantasies about becoming involved in mysterious circumstances and thrilling treasure hunts, I can so relate to Catherine Morland and her wild imagination! For that reason, for Ms. Austen's tongue in check nod in Northanger Abbey to those of us who love those sorts of books--but really only at a distance--is my favorite Austen work. I am so glad I was able to use it for the basis of my contribution to the anthology!
Mary Balogh writes "Almost Persuaded"
I chose to write my novella on Persuasion because it is my co-favorite with Pride and Prejudice among Jane Austen's novels but P&P was already taken when I came along. That was fine, though--I hate having to make decisions! And actually when I turned my mind toward Persuasion and wondered how on earth I could make a paranormal story out of it, the answer came quite fast with a what-if scenario. In Jane Austen's novel, Anne Elliott had rejected the marriage offer of the man she loved years before the start of the book. She had done so partly because her father and elder sister considered Captain Wentworth beneath her socially, but mainly because her late mother's dearest friend, now hers, agreed with them. Poor Anne has lived through many lonely and dreary years before she meets Wentworth again in the novel and has a second chance at love and happiness with him. What if, I thought, she had not given in to persuasion all those years ago? What if she had gone with her heart rather than her head and married him? And what if the reason was that she had learned that this was not the first lifetime in which she had met and loved the captain? What if she realized that in many previous lifetimes one or other of them had been persuaded to give up the other? What if they were fated to live and meet and love through countless lifetimes until they finally dared to put love before all other considerations? Well...I was on my way to producing "Almost Persuaded," my contribution to the anthology Bespelling Jane Austen.
Janet Mullany writes "Little To Hex Her"
I was delighted that neither Mary, Colleen, or Susan wanted to choose Emma for the anthology since it is my favorite Austen. Austen described Emma as a character "whom no-one but me will much like" and that was a challenge, because as dearly as I love the book, half the fun is seeing Emma make the wrong choices and ignore what's blatantly under her nose. I couldn't write a heroine like that and neither could I write a hero like Knightley, who I find the least endearing of Austen's heroes. So why do I love the book? Because every time I read it I find something new, some fresh detail, something it tells me about my own life, and every time I appreciate the complexity of the plot and the superb way Austen plays her characters. On one level it's a brilliant exposition of life in a small, enclosed community full of secrets, and it was that aspect that made me convert it to a story about the magic community of Washington, DC. I translated Emma's penchant for matchmaking t o a career choice for my Emma, managing a dating agency. It doesn't match up to Austen--who could?--but I feel it's an adequate tribute.
If you were going to retell a Jane Austen story which one would you choose and why?