Janet Evanovich To Continue Her Stephanie Plus Series And Team Up With Lee Goldberg
Wed, 07/11/2012 - 1:12pm — admin
Janet Evanovich
is one of the biggest names in mystery fiction. She bridges the land between cozies and police procedurals to bring readers the often-hilarious exploits of bounty hunter Stephanie Plum. So we are very excited to learn that this prolific author will soon be adding not one or two, but an impressive eight books to her "written by me" bookshelf. (While we have no proof that she owns one of these — and if she does, it's doubtful that she actually calls it that, the idea has us in stitches!) So what's ahead for Evanovich's fans?
Well, in case you've been living under a rock, or simply aren't part of the mystery/romance/mainstream audience that the Plum stories cater to, here's what you've been missing. Thus far bondswoman/bounty hunter Stephanie has had eighteen adventures as she tries to keep the bad guys off the streets with the help of her two on-again-off-again love interests, Ranger and Joe Morelli. (You can check out an interview that RT's Morgan did with the author last summer about the popular series here.) In fact, these books are so popular that in early 2012 the first book One for the Money was turned into a film by the same name with Katherine Heigl in the leading role.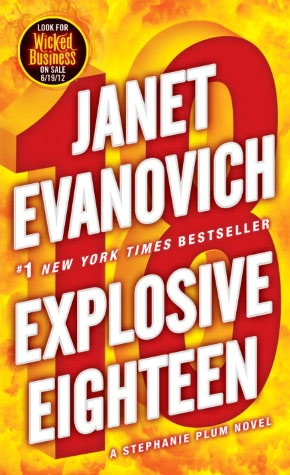 The next book in the Stephanie Plum series, Notorious Nineteen, will be in stores this coming November. However, we've just learned that the author will soon be adding four more books to the series. So today at RT BOOK REVIEWS we did a little bit of brainstorming to come up with our suggested titles for books twenty through twenty three. Here are our results: Twisted Twenty, Forever Twenty One, Twenty Two Caliber, Twenty Three Skidoo. (Okay, so maybe we should stick to just writing blog posts and not try our hand at fiction!)
But the four new Plum adventures are not the only intriguing gem of news for Evanovich fans. We've also learned that the author will be co-writing a new series with Lee Goldberg. (Readers, you may remember that Goldberg, who wrote several of the Monk series tie-in books, joined us for the 2011 RT Booklovers Convention in L.A.) Plum and Goldberg are slated to team up for at least four books. And these three most important features of this new adventure:
1) The books will feature an FBI agent named Kate Winslow.
2) Kate will share the spotlight with a fugitive named Danny Cole.
3) In the promotional material, the publisher Random House, calls the project "[a] thrilling combination of crime, romance, and adventure."
And while that fact number three may have you mindlessly humming "My Heart Will Go On," the truth is that this series is poised to show us a whole new side of Evanovich. She'll be taking on a heroine who must be (at least a little bit) more together than the Jersey bounty hunter who has made the author famous. We can't wait to see the author — and Goldberg — tackle this new character and series.
Stephanie Plum fans cant pick up Notorious Nineteen when it hits shelves November 20. For more mystery news and coverage, visit our Everything Mystery/Thriller/Suspense Page.