Janet Mullany On What Happens At Paradise Hall
Thu, 09/20/2012 - 10:59am — admin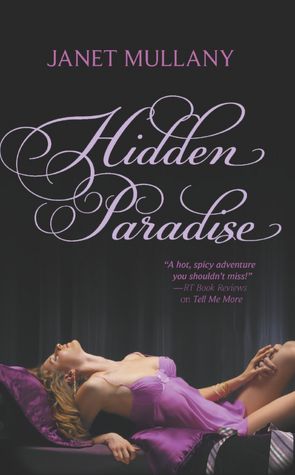 Have you always wanted to live in Regency England? The gowns, the parties, the men. In Janet Mullany's latest erotic release, Hidden Paradise, the author transports modern day men and women to the Regency era when they visit Paradise Hall — an English resort that offers an authentic experience of 19th-century life. Visitors roleplay as ladies and gentlemen of the time, and when widow Louise meets handsome journalist Mac, things start heating up. Today the author gives readers a tour of Paradise Hall and explains how she crafted the perfect resort for lovers.
I'm not the first writer to use the idea of modern people in a Regency setting and I'm sure I won't be the last. There's something so tempting about living the life we've all seen in the Austen movie adaptations or depicted in historical romance. We know it wasn't really like that, and the vast majority of people two hundred years ago lived in horrible squalor, but one can still dream. The gowns, the architecture, the elegance, the manners. The tight pants.
First I had to decide how much gritty realism to inflict upon my characters.
Historically appropriate plumbing? Regency plumbing could be quite sophisticated in new developments in cities (water piped in and heated, flush toilets) but in the country, in an older house, old methods would prevail. And then participants would spend all their time obsessing over when, where, and how. Also you don't want characters in love scenes aware mostly of their partner's body odor; sexy male musk is one thing, but you might get rather more than you expected.
Food. Definitely. Regency food (for the rich) could be quite delicious, possibly with a little more emphasis on the good things of life (butter, red meat, alcohol) than we'd consider healthy. In the country you'd get a lot of seasonal fruits and vegetables (and those would be served preserved or pickled in the winter), and luxuries such as ice cream, including savory flavors, and elaborate ice and sugar sculptures to make the table delicious for the eyes. Add plenty of alcohol to wash things down—gentlemen regularly had beer for breakfast—and everyone is happy.
Activities. Now, this was the sticking point for me. Yes, the idea of retiring to a country idyll with a well stocked library and taking the occasional stroll on the terrace—or maybe a little embroidery or watercolor painting and a private viewing of the house's art collection—it all certainly has its charms. For one day, maybe. Unless you are a crafty female who really, really wants to embroider or learn to tat or do quillwork, make candied flowers, or play the piano, you're plain out of luck for something interesting to do.
I'm talking about the women, naturally. The men can drink, gamble, fight, and indulge in ostentatious displays of testosterone. Men and women meet at dinner—and even then, in formal circumstances, the men get to talk about the really interesting stuff after the women have retired to drink tea. The other and most important activity that brought both sexes together was dancing, and if you've ever done any English country dancing you'll know how incredibly sexy it is with its emphasis on eye and hand contact. Don't believe me? Check out this clip from Becoming Jane. It was possibly the only chance you could have to talk to a man with some degree of privacy, as this clip from the 1995 Pride and Prejudice illustrates. Watch out for Lizzy's priceless eyerolling expression of boredom and exasperation at 1:17 and the tight pants in the background at 4:33.
At Paradise Hall, the resort where most of Hidden Paradise is set, you have a group of people enjoying the beautiful authentic house, carefully restored to its Georgian glory, with delicious food, dancing, riding, walking and evening concerts. Guests may also enjoy an eighteenth century bathhouse (based on Jefferson's Warm Springs, VA, bathhouse) and a luxurious modern spa. (Before you ask, it's entirely fictitious. Sorry!) You're also in the company of some good looking men, and what happens at Paradise Hall stays at Paradise Hall!
How do you think you'd like to spend your time there? Or do you think you're tough enough to withstand authentic Regency life for a time?
- Janet Mullany
Would you want to visit Paradise Hall? Let us know in the comments. You can pick up a copy of Hidden Paradise, available in stores now. For more steamy reads visit our Everything Erotica Page!