January 2013: Which Self-Published Story Is Right For You? Take The Quiz!
Mon, 01/28/2013 - 11:25am — admin
Sometimes choosing a romance is as simple as choosing which hero you'd want to end up with — for the day. Because that's the best part: Tomorrow you might be in the mood for a different kind of hero and you'll be able to switch gears. And with all the new self-pubs on the market, you have a lot of choices. To help you narrow them down, we've designed this quiz to help lead you to the man you're craving in a read. 
***
1. On a first date, you'd like him to surprise you with:
A) A high-octane adventure — maybe a car chase or two!
B) Dinner at your favorite restaurant. You've never mentioned this place before, but he seemed to instinctively know that you'd love it
C) A romantic cruise on the open sea in his yacht
D) A trip to Vegas, baby! You like to take chances in everything, even love
E) Feats of strength. He's got a body that just won't quit
2. When he leans in for a kiss, the man of your dreams is most likely whisper that you smell like …
A) Danger. But he can't get enough
B) The woman of his dreams
C) Coconuts and a sun-kissed beach
D) A sexy siren 
E) A field of heather
3. When planning your wedding day, this would be the song you'd dance to:
A) Danger! High Voltage! by Electric Six 
B) I've Been Waiting For A Girl Like You by Foreigner
C) Come Away With Me by Norah Jones
D) Lucky by Jason Mraz and Colbie Caillat
E) I'm Gonna Be (500 Miles) by the Proclaimers
4. It's an odd coincidence, but you both love the movie:
A) To Catch a Thief. Cary Grant and Grace Kelly – does it get any better?
B) Definitely, Maybe staring Ryan Reynolds. You both just knew who he was destined to end up with!
C) Pretty Woman. Can't beat a Julia Roberts classic
D) Gone With the Wind. The original love triangle! 
E) Braveheart. You like the kilts, he likes the battles
5. It's your birthday. What would your ideal man get you for a present?
A) Homeland DVDs. Prefect for a cozy night in with your man
B) A package to take waltz lessons with him at the local dance studio
C) The deed to a vacant building – now you can open the business you've dreamed of starting!
D) He's taking you on a motorcycle ride up the coast. The destination? A B&B where you'll share a romantic meal
E) A trip to take a horseback ride with him through the beautiful countryside
***
If You Chose Mostly A's … It's an undercover lover that you're craving! And Cherry Adair's Ice Cold has just the man for you. Rafael Navarro, whose nickname is the Spanish Stallion, is an explosives operative…both in and out of the bedroom. When he teams up with Honey Winston to solve the murder of her boss, can he catch the culprit while melting the heart of the woman known as the Ice Queen?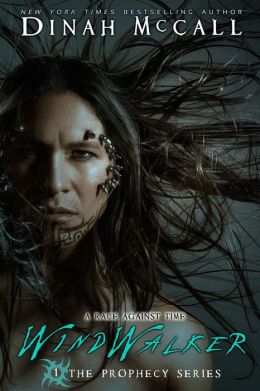 If You Chose Mostly B's … You're not going to settle for anything less than a destined soul mate. And Dinah McCall's hot paranormal Windwalker should be on your radar. It features an ancient Native American Windwalker who counsels Layla Birdsong when she's chosen to save her people from the end of the world. With the very existence of the Earth on the line, theirs is a love on which all is balanced.
If You Chose Mostly C's … You want a man who knows how to handle his business. And Rafe, the tycoon in Kris Pearson's The Boat Builder's Bed, is as talented in the boardroom as he is in the boudoir. Now he just needs someone to decorate it. When interior designer Sophie accidentally damages Rafe's car, she stumbles into the job, and the love, of a lifetime. 
If You Chose Mostly D's … A bad boy who knows how to have some fun — that's what you've been dreaming about! Look no further than the hero of Text Appeal by Lexi Ryan. Charlie Singleton is a professional poker player, but now this playboy is looking to take a gamble on a whole new venture…winning heiress Riley Carter's heart. Can he make her see that he's the one she really wants?
If You Chose Mostly E's … Keep on working on that time machine, because the men of today just don't cut it. You want an honest-to-goodness warrior. In K.E. Saxon's Highland Vengeance, Laird Daniel MacLaurin is ready to lay siege to your heart. Having lost his family at a young age, he's ready to start his own with free-spirited Maryn Donald. But first he must convince her that they are meant to be … 
Let us know your quiz results in the comments! You can find all these books and more available online now. And for other digital reads, be sure to check out RT's Everything E-Books Page.