Jayne Fresina On What Happens During A Three-Hour Marriage - With Giveaway!
Thu, 06/13/2013 - 1:19pm — admin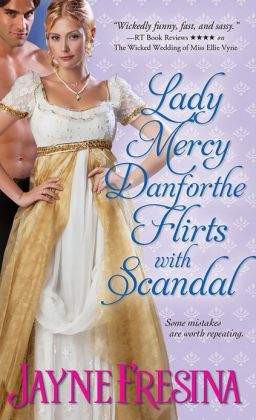 In Jayne Fresina's most recent release, Lady Mercy Danforthe Flirts with Scandal, the author's hero and heroine have a bit of a past: they were previously married…for all of three hours! We asked Jayne to share what happened during those hours, and she responded with a peek inside her characters' very brief union that would change Lady Mercy and Rafe Hartley forever. And if you can't wait to read about the couple's reunion, check out the giveaway at the end of the post where you can enter to win a copy of this historical romance!
***
Lady Mercy Danforthe on the Road to Ruin and Infamy
The Tenth of November 1830
Lady Mercy, seventeen and struck by cupid's arrow, did not ask questions when Rafe presented her with a barely vertical marriage officiate who breathed the heady fumes of a cider barrel all over her during the ceremony.
At the highly improper hour of nine in the evening, she became a wife. The young man she had known, fought, quarreled with and shouted at for seven years was suddenly her husband.
At a quarter past nine they saddled fresh horses and set off for an inn. Lady Mercy imagined a Hogarth sketch of the scene: The Lady Mercy Danforthe on the Road to Ruin and Infamy.
At five and twenty minutes past the hour Rafe slowed their horses and warmed her lips with a kiss.
At half past the hour he did the same.
And again at twenty minutes to ten.
"I sincerely hope our marriage will not continue in this vein," she exclaimed, "or we will never get anywhere on time." Mercy was a great believer in the importance of punctuality. Rafe was not. He had no more respect for the time than he did for rules and laws.
At ten o'clock the newlyweds arrived at their destination and she watched her husband confer with the stout innkeeper. Rafe was two years older than she, tall and sturdy. Unkempt, his dark hair always fell over his brow and sometimes into his eyes, no matter how often he swept it back with restless fingers. Perhaps, she thought with a little hiccup of excitement, he would let her comb it back for him now.
He glanced over at Mercy and smiled... wickedly. There was no other word more fitting, she mused; "wickedly" it was. She had rarely seen him serious about anything and perhaps, when he asked her to marry him, it was merely another of his jests.
Running fingertips over the pleats of her damask-lined mantle, Mercy realized the garment would have to last her a great many years now; there would be no spare coin to purchase another. She had left her fortune behind when she chose Rafe. And love.
At a quarter past ten, he came to where she stood and threaded his fingers through hers. "We can take the room above, if you're ready."
Ready? Would she ever be? It had seemed terribly romantic to elope, to promise they required nothing but each other. Wonderful as it might sound, however, two people could not live on passion alone.
Then this unsuitable man, the bastard son of a housemaid and a gentleman, tickled her palm. Mercy raised her eyelashes to find his delicious smile warming her spirit again and, just like that, her concerns vanished behind a fog of willful, lusty carelessness.
He kissed her brow and whispered, "Now you're all mine to do with as I please."
"I am not chattel, Rafe Hartley. Kindly do not refer to me as such."
His voice turned husky. "Yes you are, Lady Bossy Drawers. You're my chattel. Now get up those stairs and we'll make it official."
***
It was almost eleven o'clock — or so Rafe estimated — and the damnable wench was still sorting through her trunk.
He laid on his side, propped up on one elbow, watching her. "Mrs. Hartley, will you please come to bed?" Although it had taken him less than a minute to shed his clothes, she still wore her corset, stockings and chemise.
They'd eaten dinner and now he anticipated the most enjoyable part of the evening. Snow fell gently against their window, but Rafe felt no cold as he lay naked under a threadbare sheet. In fact, he was over-heated, inside and out, for whenever the flickering candlelight caught her at the right angle he won a tantalizing view of her legs and that delectably curved little bottom moving against gossamer material. It was a sight that spurred more heat through his loins, made him hard and heavy with want.
Her lush, spring-green eyes were wide, her face tinted pink like the underskirt of a daisy. "I cannot find my nightgown." As she shook her head, plump ringlets of copper and autumn wheat tumbled over her shoulders.
"No need for one." He winked. "I'll keep you warm, Buttercup."
In the sensuous tease of candlelight and twisting, playful shadow she was exceptionally beautiful. Another pang of prideful amazement raced giddily through his blood. He'd aimed high and caught his lady. Now, if she took those last three steps to the bed, he'd make her thoroughly, completely his. Rafe spread fingers over his chest, trying to calm that excited, reckless heart.
"A nightgown is not merely required for warmth," she muttered. "There is also the matter of decency."
"Decency?" he grumbled, watching the sway of her hips through the delicate chemise. "I cannot pretend that ever bothered me much."
Certainly not when it came to his feelings for her. There had always existed a fierce, wanton spark between them. If he went too long without one of their arguments, he was irritable, tense. So he'd decided he'd better make their fighting relationship a permanent arrangement.
"Come to bed, my lady." He crooked his finger, beckoning.
"Being a man, you fail to understand." She straightened up. "It is a new nightgown, exquisitely made with Alencon lace. Had you any sense of fashion and style, you would appreciate the tragedy of leaving it behind, Hartley."
"Undoubtedly. But now, see, you're all flustered and breathless from wasting your explanation upon a humble fellow like me. So come here and say no more about the wretched garment."
"Wretched?" She frowned and her lips formed a tight rosebud.
Rafe tried not to laugh. He never could understand why she took such concern over her silks and velvets when the skin she covered them with was far softer and finer than any fabric in the world.
Mercy looked to the window where a thin layer of snow now decorated the crooked panes. Shivering, she rubbed her arms. "Did you hear that?"
"What?" All he could hear was the beat of his heart. It was almost rocking the bed. As they would be very soon.
She sighed. "It seems like a bad omen to have left that nightgown behind."
He didn't know she was superstitious, but there must be many things he had yet to learn about his bride. And she about him. Fortunately they had years ahead of them.
"You won't need your clothes on this adventure, wife." Rafe sat up, letting the sheet fall from his hips.
His new wife stared. "Goodness gracious. What is that?"
"This?" He reached down with one hand. "This is your fault, Silky Garters. "
***
It was just twelve o'clock. At the foot of the stairs there was a grandfather clock with strawberries painted on the face. Mercy had noticed it on her way up and now she heard it chime, counting out the hour of midnight.
Her gaze trained, trance-like, upon Rafe's stunning, naked body, she moved forward. When she stubbed her toe on the trunk she barely felt it. The young man on the bed stretched out his hand for hers and there were no further words she might use to delay. His blue eyes stole the breath from her lips.
That old clock struck eleven times before the door crashed open behind her. Suddenly the space between her fingertips and Rafe's hand seemed an insurmountable distance.
She heard the twelfth chime as it marked the final precious second of her adventure.
Turning, she faced her brother's unbound fury, saw the riding crop raised in his fist. Mercy knew she must act quickly to save Rafe's handsome features. And probably his life.
***
Midnight already? Rafe had vastly underestimated the time. Never in his life had three hours in the company of a woman passed so quickly.
Her brother, the Earl of Everscham, strode into the room, riding crop raised.
Rafe shouted at Mercy that he loved her. But she shook her head fearfully and backed away. Was she too young, after all? Too afraid to take a chance on love.
"No," she mouthed. Head high, she turned her back to him, putting herself in the Earl's way. To Rafe it seemed as if she could not bear to look at him any longer.
A heavy bitterness quickly settled inside his belly.
He might have known he couldn't trust her. Damn the woman! Somehow she must have left word for her brother. If Mercy Danforthe imagined this would all be forgotten she could think again.
Well, even if she was afraid, he was not. This misadventure was far from over. And Lady Bossy Drawers owed him a wedding night!
- Jayne Fresina
GIVEAWAY ALERT: Three lucky readers will win copies of Lady Mercy Danforthe Flirts with Scandal! To enter, leave a comment on this blog telling us your favorite celebrity short marriage! You can also e-mail your answer here with the subject "Jayne Fresina Giveaway," along with your mailing address. U.S. addresses only, please. Winners will be announced here by June 19.
You can pick up a copy of Lady Mercy Danforthe Flirts with Scandal, available now! For more historical love stories visit our Everything Romance Page!