Jayne Rylon Answers Our Questions About Her Powertools Series Of Erotic Romances - With Excerpt!
Wed, 03/09/2011 - 1:25pm — admin
Author Jayne Rylon is known for her spicy erotic romances. The first two novellas in her Powertools series, "Kate's Crew" and "Morgan's Surprise" will blast away the last of winter's chill. Get a special look at the Powertools series with this author interview. And don't miss the exclusive excerpt of their next erotica adventure, "Kayla's Gift" at the end of this post!
***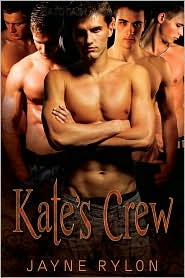 Some readers may be shocked at the fact that in your Powertools erotica series there are six men on a construction crew and all of them are sexually involved with each other as well as others. More than simple ménage, your stories contain many partners at once. For some readers, they will have to step out of their comfort zone – what would you tell them to get them to try your stories?
Well, let's not go crazy overboard. There are only five guys in the crew, not six. Clearly that one extra would be way over the top and unrealistic. Ha! No, seriously, I do realize that the books are not for the faint of heart. But, what a fantasy! All you have to do is take a look at the delicious cover Angela Waters created for "Kate's Crew" to understand a little of the appeal.
What woman wouldn't want those men looking after her pleasure and claiming her as one of their family?
I think it's important for potential readers to know that part of the appeal of the crew is that it's not just five random guys having their way with one woman. The books are really about the unique and complex relationship they've all built and how they're so very different from each other yet able to function as a team. There's a wide range between them in their sexual preferences (one enjoys only men, some are bisexual and others are very limited in their exploration of m/m encounters).
If I were a hoity-toity kind of lady, I'd say that "Kate's Crew" contains a sliver of social commentary on the spectrum of sexuality and how I believe there aren't always clearly defined lines between straight or gay. Sometimes affection, respect, trust and the character of the person can do more to incite attraction than their gender.
With all that said... readers without a healthy imagination need not apply. It's a wild and wicked daydream!
What was the inspiration for the Powertools crew?
If I told you I once had a deck built on my house in the middle of summer and that I looked out my windows a lot during the process, would you think I was a dirty bird?
Best friends and lovers, this crew has a tremendous amount of trust. How did they meet?
The Powertools books are all short stories, so there's not a lot of background given. However, when I write I think about all these things that never make it into the book. I believe Mike (the hero of "Kate's Crew") once mentions how they all went to trade school together. In my mind, I imagine that at least two or three grew up together. Their bond is that strong. It's a lifetime friendship that extends beyond normal boundaries to encompass their livelihood and all aspects of their existence. Becoming part of the crew means more than a simple job or even being best friends. They're truly inseparable, though they may fight among themselves at times. Plus, in a group of five there are some interesting dynamics between the members. Neil and James are life partners and Dave and Joe are best friends. So even within their circle there are a variety of relationships and facets to their interactions. I honestly believe I could write about the gang forever and never grow bored. I only wish now that I had made the books longer!
It takes a special heroine to want to indulge in the type of fantasy that requires multiple partners. What were some of the obstacles that stood in the way of Kate and Morgan before they could act on their fantasies?
You know, I was thinking about this the other day. I think because I write so many ménages I began to forget that this is not a normal, everyday occurrence until I read a book recently where the fact that the woman wanted two men was the crux of the conflict. For me, my books never really go there. I guess that's a reflection of my belief that love in any shape or fashion could never be wrong. Tough, impossible to make work in reality but… in fiction… never impossible in whatever form it may take.
With that said, this series is a little different because although the lucky heroines experience the attention of multiple men, who are close friends before the first page of any of the books by the way, there's still only one hero for her. She's always grounded by her special connection to the dominant hero of the story. For Kate this was frightening because she didn't want to jeopardize something lasting by seeking temporary gratification with the best friends of the man of her dreams. Morgan had other issues. The crew is able to help her regain her confidence after being with a man who didn't support her fantasies. In the case of Kayla (yes, I know I'm skipping ahead but I'm not very good at following rules!) from Powertools Book 3, she's a founder of a naturist haven and has always defended the fact that nudism and sexuality are separate things until the introduction of three sexy construction workers make her eat her words. She can't see them naked without being aroused and it causes her to doubt her convictions. And as for Devon, of Powertools Book 4... well you'll just have to wait and see!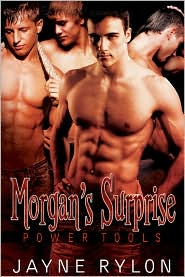 While writing this series, are there any lines that cannot be crossed?
Hmmm... for me everything is on the table (in "Morgan's Surprise", quite literally on the table). I feel very grounded in who each man is and what his boundaries are. When you mix and match so many priorities and values, the permutations are pretty much infinite. I wouldn't say that anything is off limits other than disrespecting the wishes of another crew member. For example, Neil is not interested in oral sex with other men. No one ever pressures him to change his mind or is disappointed by his choice. Though the crew teases each other mercilessly at times, they'd never joke or put him down for that restriction.
What can you tell us about the next book in the series? 
Ah, "Kayla's Gift" will be out on May 3rd. Aside from Kayla's penchant for nakedness, and the research I had to do to really understand the mindset of a nudist, I have to say it was still my favorite so far to write. I sat down on a Saturday morning and finished it by the end of the weekend. It poured out of my fingers and onto the page. The more vignettes I write about the crew and their adventures, the more I enjoy exploring the bond between them. I feel like readers get a much deeper emotional connection to James and Neil especially in this book, setting up for "Devon's Pair" due out in January of 2012.
In the meantime, here's a sneak peek of "Kayla's Gift" to hold you over!
One blizzard, two days, three men to keep her warm.
Powertools, Book 3
Naked is Kayla's style. She's exposed to bare skin more than the average person—like when she's up to her elbows in massage oil, soothing the tired muscles of the construction crew building her new spa, a barter to offset some of the cost. Once it's finished, she plans to open a private retreat for fellow naturists.
It should be a routine service. Yet for some reason, caressing the man on her table is blurring her normally crystal-clear distinction between nudity and sexuality. And stirring up kinky fantasies involving the rest of the crew.
She never intended to share details about her lifestyle-slash-business plan, not even with the open-minded, sexy crew. But when a faulty truck engine and one hell of a snowstorm trap the three men at her cabin, heat sears away her cover story—and her inhibitions
Cocooned in blissful isolation, Dave, Neil and James show her that passion knows no barrier, with or without clothing. Leaving Kayla wondering if two days of mutual satisfaction will ever be enough…
You can pick up the first two novellas in Rylon's sexy Powertools series, "Kate's Crew" and "Morgan's Surprise", out now and then keep your eyes open for "Kayla's Gift" coming next May!