Jeaniene Frost's First E-Novella Now $1.99
Fri, 07/29/2011 - 1:52pm — admin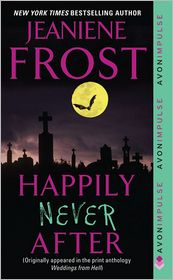 Thanks to the e-book revolution, there are more books available to readers than ever before, and oftentimes they can be found at great prices. Another reason to love digital content is because now publishers are able to get even more creative in the ways they release stories. For example, take anthologies. Before, if you wanted to read a short story in an anthology, you had to purchase the entire collection. But now publishers are releasing single stories for readers to buy. This is the case for Jeaniene Frost's "Happily Never After." First appearing in the 2008 anthology Weddings From Hell, readers can now pick up this e-novella for only $1.99.
This is the first novella Frost wrote in the Night Huntress world, and series fans can expect to find a bit of Bones in "Happily Never After," but this is not his and Cat's story. Instead, the heroine is Isabella, a restaurant owner who is having a hard time refusing the local small-time mobster's unwanted marriage proposal. The hero of "Happily Never After" is Chance, an old friend of Bones', who is sent in to solve Isa's problem. 
Isa immediately dubs Chance "Tall, Dark and Dumb" after seeing the risks he takes when dealing with her dangerous faux-fiancée Robert "Robbery" Bertini. Not wanting Chance hurt, Isa cautions him to not get involved. But, fortunately for her, Chance doesn't give up easily. Also, he is no ordinary bodyguard — he is a vampire and doesn't stay dead even after Robert and his cohorts shoot him and have him take a "swim with the fishes." 
Robert and his threat of cement shoes become a low priority for Chance as soon as he spies Isa. He feels a connection with her, but she is standoffish — and that's before she learns about Chance's "undead" status. But Chance won't take no for an answer because after a few hundred years of existence, he knows what they have is special, even if it starts out a bit rocky. "He'd forgotten how hard it was to start a relationship … Chance figured it was a good thing he wasn't growing any older." 
Readers will be charmed by this funny read that is full of pop culture references, snappy dialogue and plenty of misunderstandings. After this novella, readers will have no question as to why Jeaniene Frost is one of the most popular paranormal authors writing today!
For more coverage of the paranormal and urban fantasy genres, you can check out our Everything Paranormal Page!