Jeannie Lin Tells Us: How My Worst Seller Became a Bestseller and What it Means to Write "Different"
Mon, 03/03/2014 - 11:19am — admin
Any author will tell you, publishing can be a volatile industry in which to build a career. Even as we as readers clamber for more, finding one's way amongst the pitfalls of contracts, self-publishing, marketing and more can be tough.
Late last year, Jeannie Lin announced that the sequel to her RT Award Nominee, China-set historical romance, The Lotus Palace, would be published digitally only, thanks in part to poor sales. Her candid post rallied those in the romance industry. Today, that digital-only sequel, which earned a 4.5 star rating The Jade Temptress, releases. We asked Jeannie to weigh in about her transition to digital, her publishing career, and what it all means. Take it away, Jeannie!
The Jade Temptress, which releases today, will be the sixth full-length historical romance I've published set in the Tang Dynasty. Do you know that Jade Lee, an author I consider my idol, my publishing big sister, had six books in her Tigress series set in Qing Dynasty China?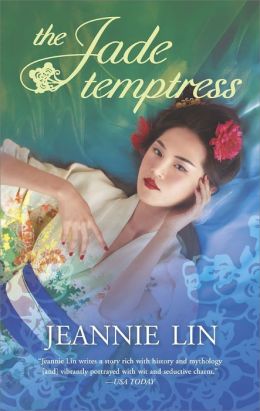 You'll have to excuse me. This will all come back around, I promise. I find that one of the consequences of growing up Buddhist is that I think in circles. That's what karma does to you. Karma emerges from this circuitous way of searching for answers, of referencing and cross-referencing within my own experience.
As an author in this time of rapid change in the industry, I've been doing a lot of searching for answers lately.   
When I was invited to write about my transition from print to a digital-only release, I knew I wouldn't have any definitive answers to give about the experience. The first book of my new series, The Lotus Palace, sold so poorly in stores that HQN cancelled the print run on the sequel, The Jade Temptress, and decided to release it only digitally. It's too soon to tell what the overall effects of that will be, but I know on some level it means loss of distribution and readers. As someone who is fighting tooth and nail to build readership, that news was devastating.    
I made a public announcement about the change where I took special care not to weep, lament or place blame. Despite my stance, many people took that announcement to mean that, once again, readers and publishers were writing an author off because she writes in an unusual Asian setting.  Courtney Milan mentioned my book and responded to that inference in a piece entitled, "A Note on Historical Romance Sales in Print."
In regards to the Milan piece, to how I think my books will do digitally, to whether or not I plan to self-publish — I've thought a lot about all those things. The hardest realization is that maybe my publisher didn't know how to market China to romance readers (who does?), BUT maybe romance readers didn't really want China after all. No amount of skullduggery or seduction was going to get them to open that book.
In my darkest moment, my thoughts returned to Jade Lee and her six Tigress books that had set me on this dream. Like Jade, I'd now written six novels set in China. Maybe that was as far as any author was meant to go in this fight.
Unlike Jade Lee, I've written nothing but China. So the question became, do I keep going? If I try to switch gears, do I have it in me to pull out an amazing story when my heart has been doing this one thing for so long?
I've taken a hard look at the market for what I write. Courtney Milan had another great piece about that — how you should compare your potential performance against high and low earners in your genre. I'm not naïve enough to think that means I should look at Sarah MacLean's performance or Tessa Dare's or Courtney Milan's.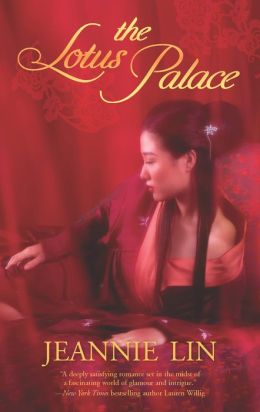 All I could look at were Jeannie Lin's numbers. It's tough trying to figure things out with so little comparative data.
So all I had were more questions: If I have a lower price point like I do now in digital only, will readers take a chance? Would my print readers follow me to digital if that was all that was available? Will I just be buried under an avalanche of books that are so much more familiar and accessible to the mass market?
I promised there would be a point that I would finally come around to. A bright moment, if you will.
A week ago, The Lotus Palace hit the USA Today Bestseller list. With how volatile the market is right now, I know not to take this blip as a gold ticket or validation or anything of the sort. All it did was answer a few questions: I saw that at a low price point, readers might take that leap. I also saw what immense support I had from readers and authors and bloggers within the romance community who wanted to see my books succeed. I haven't seen anything else like it.
On the same day that I found out my worst seller had become a bestseller, I received another bit of news. A friend told me of a co-worker who studies romance and occasionally teaches a romance class at university. This semester one of my books, My Fair Concubine, was on the class reading list.
She happened to have a group of Chinese students in class who all chose the book. They had never spoken up before, but when it came time to discuss this book, they were not only ready, but eager to participate. My Fair Concubine represented to them so many ideas and concepts key to Chinese culture.
I had just learned The Lotus Palace was a surprise USA Today bestseller, but this news punched me in the chest. This is what made my heart beat faster.
It reminded me of how I felt when I discovered Jade Lee's Tigress books so many years ago. I've always loved reading historical romance. I never had any trouble falling into stories about Vikings or dukes or cowboys, but I felt something deeper as I read Jade's book.
I felt included.
Just like those students must have felt because this one obscure Chinese historical romance happened to be on a college reading list. 
I know this is probably not the only or the overwhelming reason people read my stories. This is not enough to sell a lot of books and turn a profit. But it's enough reason for me to write the next story.
Like so many other authors, I have so few answers right now, but I do have this one.
- Jeannie Lin
Jeannie's latest, The Jade Temptress, is available online today, so check it out! And for more romances through the ages, be sure to visit our Everything Romance page.