Jenna Petersen On "Getting Physical"
Fri, 09/03/2010 - 11:02am — admin
Author Jenna Petersen discusses why she considers sex such an important part of the romance novels that she writes. And don't miss the excerpt of her new release, The Unclaimed Duchess, at the end of this post!
Thanks so much to RT for asking me to write a few words on a topic that is quite near and dear to my heart. See, I've always liked a sexy romance. Give me the "good stuff". And that's always what I've written, whether under my Jenna Petersen name or my erotic romance name, Jess Michaels. But for some reason sometimes people seem to discount a sexy romance and somehow less valid or emotional because there is… horror of horrors… sex in it. Like somehow that cheapens the relationship, especially if sex comes before love.
But I guess I see it differently. The two books I've enjoyed writing most over my career are Lessons From a Courtesan and my current release, The Unclaimed Duchess. And in both of them, the hero and heroine have a powerful physical connection that they realize and explore and accept long before they can accept the feelings they have for each other.
In Lessons From a Courtesan, a reunion story, each time the hero and heroine had a strong emotion about the other, they only felt safe to express those feelings through making love. Whether angry or tender, the physical helped open the doors to the heart for them.
In The Unclaimed Duchess my hero is desperately trying to keep himself at arm's length from the heroine, both before he realizes the terrible secret that sends him running away from their long-arranged marriage and after. But the physical keeps drawing him back, tempting him and that forces him to face his deeper feelings.
In a healthy romantic relationship, a couple must enjoy their physical connection. And that is true whether they start out in bed or whether they save sex for the wedding night. But whatever happens, give me the "good stuff".
- Jenna Petersen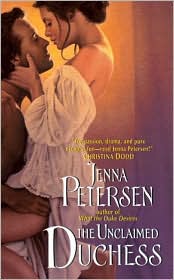 WE WANT TO KNOW: Do you like it when authors rely on a couple's physical attraction to bring them together?