Jennifer McQuiston Blames It On Brighton
Tue, 10/08/2013 - 10:44am — admin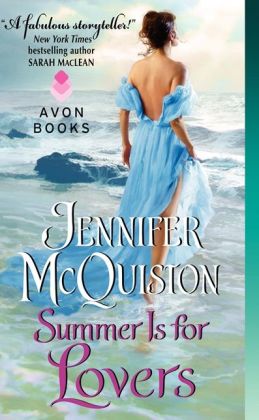 We love a good historical romance — who doesn't? The ton, the balls, the London sites. But sometimes, you want to go somewhere new, even in a book. Which is why Jennifer McQuiston's 4 1/2-star, Brighton-set Summer is for Lovers caught our attention. We had to hear more about the setting switch up. Jennifer nicely obliged!
London has always offered a colorful array of perfectly prurient peers, and this is why most historical romances are set in that decadent city. But every now and then, do you want to get the heck out of Mayfair and see a bit more of what Britain has to offer? For many Londoners in the 18th and 19th centuries (a slew of Royals included), the seaside town of Brighton provided that escape, and it serves as the setting for my latest Victorian-set romance, Summer is For Lovers.
From its humble roots as a fishing village, Brighton began its climb to social prominence in the late 18th century, when George IV built the Royal Pavilion as a retreat from London. Later the Prince Regent took a liking to Brighton (although not so much the solitude), inviting his friends down from London and generally proceeding to party like it was 1999. Offering up fresh air, medicinal sea water cures and lavish seasonal parties, Brighton quickly became a go-to place for London's elite looking for a diversion from London's usual social scene.
From: John Nash's Views of the Royal Pavilion (1826).
Alas, Queen Victoria considered Brighton crowded and distasteful, and dealt the town a crushing blow when she set her sights on holidays at the Osborne House on the quieter Isle of Wight instead.
Summer is for Lovers is set in Brighton in 1842, when the town's reputation was swelling among the middle classes, but just beginning to wane among the elite, thanks to England's shiny new rail system and the resulting slew of vulgar day-trippers who began to invade the town's famous shingle beaches. This remarkable collision of new and old proved the perfect backdrop for Summer is for Lovers, which is an unrequited love story featuring the rakish second son of a peer and the innocent, socially inept daughter of a newspaper owner. When sparks fly between such a wildly inappropriate pair, what else is there to do but blame it on Brighton?
- Jennifer McQuiston
Ready to daytrip out of Londontown? Summer is for Lovers is out now, in stores and online. And for more romantic settings, be sure to visit our Everything Romance page.