Jess Dee On Menage, Magic And Colors Of Love
Thu, 07/26/2012 - 12:24pm — admin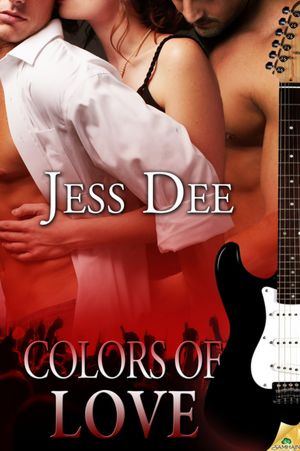 Author Jess Dee continues her Speed series, about a hot rock band that creates chemistry on and off stage, with this month's release, Colors of Love. This series second follows guitarist Seth and band manager Luke as Seth attempts to bring their no-strings-attached relationship to a whole new level. Luke doesn't do commitment, but when he meets Kaz, a beautiful, carefree woman with the ability to read auras, Luke thinks she's just the thing to distract Seth, so he invites her into their bedroom. We were intrigued by heroine Kaz and the ménage element in Dee's latest story, so we went straight to the author with our questions about how Seth, Luke and Kaz make their relationship work.

***

The first in your Speed series, See You in My Dreams, featured a touch of magic. Your series second, Colors of Love, includes a heroine with the ability to read auras. What do these paranormal elements add to your series?
The Speed series has given me the perfect opportunity to blend contemporary, erotic romance with just that hint of something more.
Falling in love with the proverbial rock star is a fantasy most of us women had when we were girls. The added "magical" or "paranormal" elements of this series allow the adult readers to immerse themselves once again in that fantasy. We all know it's unlikely to ever happen, still, every once in a while it's nice to lose ourselves to the impossible daydream.
Since Kaz can read auras she has a leg up on getting to know a person. What is her very first reaction to seeing Seth and Luke's "colors"?
Kaz experiences three different reactions to Seth and Luke, reactions that have nothing to do with what the men tell her:
When she meets Luke for the first time, his aura tells her two things — he is a man used to being in charge, and he carries a wealth of hidden pain.
Seth's aura paints the picture of a natural-born dreamer. A man immersed in the wonder of all the endless possibilities that surround him.
And finally, when she sees the two of them interact, the striking colors surrounding them alert Kaz to the fact that whatever else is happening in their lives, these two men are very much in love with each other.
Seth, who has been pining after Luke, thinks that introducing Kaz into their bedroom will help bring their relationship to a new level. But Luke has plans of his own: Making Seth fall in love with Kaz. What were some challenges you faced writing this ménage romance?
The biggest challenge was introducing a third party into an established relationship. From the outset, it's clear that Luke and Seth have a strong history. It's clear too that Seth sees Luke as his future. Introducing Kaz into their lives — and into their bed — changes the story completely. Suddenly the two men have to make room for a third person. I think I struggled with this idea as much as Seth and Luke did.
Although the men have shared their bed with a third person before, the encounters were purely physical. Now for the first time, someone else is connecting with them on an emotional level — and she's changing the dynamics of the way men relate to each other.
One of the obvious complications any triad relationship might face is jealousy. How do Seth, Luke and Kaz deal with and reconcile their jealousy?
All three characters are forced to deal with a myriad of complications, but it's Luke whose most overwhelming — and most unexpected response — is jealousy. Although he is the one who sets the threesome up (with plans for Kaz to replace him in Seth's life), in the end the reality of losing Seth to someone else, no matter how wonderful that woman is, tears Luke apart.
Luke's journey to reconcile himself with his jealousy is the crux of the book, and one I cannot explain further without giving away the end.
This book features both m/m and m/m/f love scenes. Aside from the obvious, what do you think it is about the inclusion of Kaz that can change the chemistry of Seth and Luke's lovemaking?
Including Kaz in their lovemaking gives Luke the opportunity to silently express his love for Seth. With Kaz there as a distraction, he can give into his need for the other man, and make love to Seth with all the fierce and possessive emotion he feels for him, while directing Seth's attention towards Kaz.
Kaz's presence also helps to crystallize Seth's feelings for Luke.
Can you give readers an idea of what they can expect from your third Speed book? Will Kaz, Seth or Luke be making an appearance?
The next book in the Speed series centers around the third Pace brother, Zachary, AKA band drummer, Jonah Speed. I can promise that as with the first two books, this one will also include a "touch of magic."
I'm about to sit down and begin his story, and honestly? I can't wait. So far Zachary has been a bit cagey about giving away details of his life and his desires, so I look forward to getting him to reveal all his hidden secrets.
Want to read more about Luke, Seth and Kaz's relationship? Download a copy of Colors of Love, available from online book retailers now! For more steamy twosomes, threesomes and more visit our Everything Erotica Page.