Jessica Andersen on being "Married With Children, Nightkeeper Style" - With Giveaway!
Mon, 11/08/2010 - 5:07pm — admin
Author Jessica Andersen on the challenge she faced while crafting her latest Nightkeeper novel - and don't miss the GIVEAWAY at the end of the post!
To channel the Princess Bride: "Mawwiage is what bwings us togevah heah." Specifically, the mawwiage … er, marriage of Patience and Brandt White-Eagle, two powerful magic users who are on the front lines of the war for souls as we approach the 2012 doomsday.
Here's the blurb:
Mayan lore and modern science warn that 12/21/2012 will bring a global cataclysm, and dark forces stand poised to crush mankind. Our only hope rests with a secret group of modern magic-wielders called Nightkeepers, who gain their full powers by finding and winning their destined mates. But what happens when the mated bond unravels?
Patience and Brandt were both living in the human world when they met, married, and had twin sons … but when the Nightkeepers are recalled to duty, cracks appear in a marriage founded on secrecy and lies. Now, with their sons sent into hiding and the demonic threat kicking into high gear, they're living separate lives, unable to reconnect … and not sure they want to.
They're forced to team up once more when an ancient Aztec god-king arises, threatening the very fabric of the earth. But as they race to prevent their powerful enemy from enacting a terrible ritual, the danger turns personal, becoming a deadly test of their powers … and the love they once shared.
Now, raise your hand if you've been in a relationship that flattened out and you're not sure why, or how to fix it, or even if you should bother trying. (Yep. I'm seeing lots of hands.)
I know I've been there, which made it both easier and harder to write this story. Of all the Nightkeeper books, this is the one where my critique partner (rockstar goddess JR Ward) sent the manuscript back to me with comments like "you're distancing!" and "But what is she feeling here?" 
Okay, if you've ever seen the two of us together, you can guess that those comments were liberally laced with f-bombs and other colorful language, but that's the gist. And she was totally right … because the thing is, it's hard to write about a marriage falling apart. 
I had to put myself right in that place where Patience looks at Brandt and thinks: "Is this it for us?" And then I had to ride it out as they decide which way things are going to go … in the midst of a terrifying curse, an ancient oracle, and the search for a shared past they can't remember. In the end, Patience and Brandt learn that it's far easier to be battle partners than it is to negotiate a new happily ever after. Which cuts very close to reality, I think.
But although this was a hard book for me to write, it's also one I'm particularly proud of. Because me stripping away my defenses brought out the best in Patience, Brandt, and the people around them, making them finally gel into the warriors they've struggled to become since the Nightkeeper novels began. Blood Spells is the halfway point of the series, and I think it's a high point … which is a good thing, because as we get closer and closer to 2012, things are going to get tougher by the day, and it will be up to Patience, Brandt, and the rest of the Nightkeepers to make sure we make it to 2013!
- Jessica Andersen
You can pick up your own copy of Blood Spells now or enter to win it below!
GIVEAWAY ALERT: Three lucky winners will receive copies of Andersen's Blood Spells. To enter let us know what your reaction will be if 2012 is the end of the world. Or email your comment here with your mailing address and the subject line "Jessica Andersen's Nightkeepers Giveaway". One entry per person. The winners will be announced on November 22nd.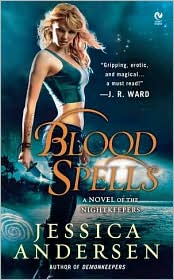 BLOG UPDATE 11/22/2010: And the winners are ... Barbara E., Natascha F. and Crystal B.