Jessica Clare's Tips for Taming A Modern Day Alpha Male
Wed, 10/10/2012 - 11:15am — admin
This month author Jessica Clare releases the latest erotica in her Bluebonnet, Texas series, The Care and Feeding of an Alpha Male. This modern day tale tells the story of Beth Ann, a hairstylist on the run from her ex-fiancé who gets caught in the woods during the middle of a downpour. Out of luck, Beth Ann is rescued by brooding ex-Marine Colt who keeps her warm and dry during the storm. Determined to teach the town's princess survivalist skills, Colt spends the weekend "roughing it" with Beth Ann and the two realize they aren't so different after all. We asked the author to share her tips for taming a contemporary alpha male like Colt, and her tongue-in-cheek response left us laughing: 
The alpha male is an elusive, mysterious creature. They're rarely spotted in the wild and domesticating one is almost out of the question. Nevertheless, demand for this rare breed is extremely high among women who want one of their own.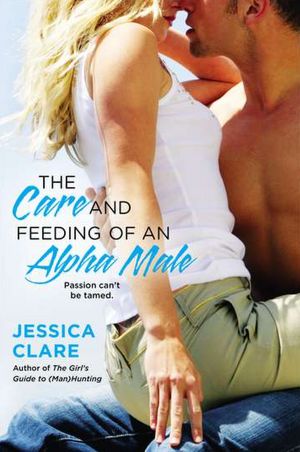 So you think you've got a date lined up with an alpha male? Not exactly sure how to handle him or what'll be expected of you on your date? Here are a few do's and don'ts to help you capture the heart (and anything else you might be interested in) of this alpha male:
DON'T … Underestimate an alpha male. Know what you're getting into before you go out on your date!
DO … Plan ahead. Alpha males can be extremely intelligent creatures. It'll be wise to plan your strategy in advance.
***
DON'T… Expect him to shave. Or wear deodorant. That's entirely too metrosexual for an alpha male.
DO … Bring breath mints. Just in case he's had a long night of beer and hot wings. You'll be thanking me later.
***
DON'T … Take him out of his natural habitat. He's likely to run away at the first whiff of an art museum or foreign film.
DO … Take him to a sports bar. Show him that you understand his feral nature and you're not afraid!
***
DON'T … make sudden movements. Alpha males can sometimes be rabidly fierce in their protection of their chosen heroine.
DO… Rip your bodice. If his attention seems to be straying, it's a sign that your alpha male has a strong 'fight or flight' instinct. Show a little cleavage to distract him from his thoughts.
***
DON'T… Let him try wrestling moves on you. While the alpha male loves a display of dominance over his woman, he can play too rough at times.
DO… Ask to see his muscles and look impressed no matter what he shows you. This will appease his primordial instinctive need to be the strong protector without you getting tossed into a headlock.
***
DON'T… Expect too much of your alpha male too soon. These are wild animals and must be treated as such. An alpha male on your arm is like having a tiger on a leash. Be wary and be alert at all times!
DO… Ignore his lack of personal grooming. He's too busy chopping wood and beating his chest to do sissy things like showering and shaving.
***
DON'T … Pay any attention to this list. It's hogwash. Just be yourself!
DO … Check out The Care and Feeding of an Alpha Male. Because it's funny and really steamy and doesn't use anything on this list.
- Jessica Clare
Have your own tips for dealing with an unruly alpha male? Leave them in the comments! For more steamy romance visit our Everything Erotica Page!