Jessica Shirvington Hits The Road On Her First American Tour
Fri, 09/21/2012 - 11:03am — admin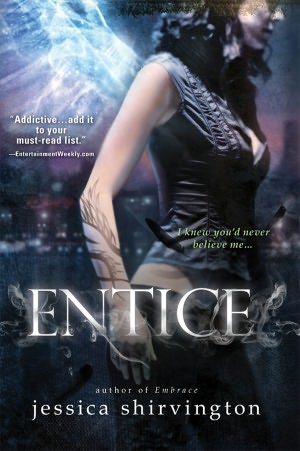 In celebration of her latest release Entice — about the adventures of Violet, a hunter of exiled angels — Australian author Jessica Shirvington is embarking on her first U.S. tour this week with stops all over the country. But her Embrace series second isn't the only thing Jessica is celebrating. The author's hot YA series is currently being developed for a TV show on The CW! Today the author shares what she's most excited about and what she hopes to experience during her U.S. tour.
I'm counting down the days to my fast approaching tour in America and whilst my dominant emotion is excitement, I am also a touch anxious and nervous. As a writer I spend a lot of time behind closed doors, my main source of company being fictional characters and the sound of a tapping keyboard. It is a quietly comforting environment, but also, as the time nears for a new book release I become overwhelmingly keen to share it with the readers I've always intended the stories for.
Releasing books in America is still a new experience for me and this will be my first tour in the US. I love the idea of sharing my passion for storytelling. I'm looking forward to some honest discussion and I have a feeling that American teens are going to keep me on my toes!
Obvious highlights of the tour will be the book festivals. I'll be at both the Austin Teen Book Festival and the Brooklyn Book Festival. Both are amazing opportunities to meet readers and fellow authors alike. Sometimes I can feel a little disconnected from the YA author community in Australia, perhaps because so many of the YA authors seem to come from America, so I am really looking forward to meeting as many as possible.
The other exciting opportunity throughout the tour will be meeting bloggers and readers who have connected with me throughout the year. I've found that one of the best things about being published in America is that the book community is so active, passionate and supportive. It's a fantastic vibe. It will be so great to put faces to names and have the opportunity to thank them for all of their support. So, if you in the area for any of my bookstore or festival visits, please come and say hello!
- Jessica Shirvington
You can pick up a copy of Entice in stores now. Wanna know if Jessica is coming to your town? Check the tour dates here. And for more genre news and coverage visit our Everything Young Adult Page!