Jessica Sorensen Tells The Secret Of Ella And Micha
Tue, 02/19/2013 - 12:13pm — admin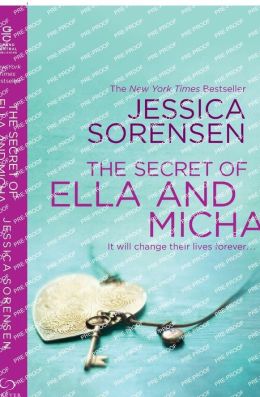 After escaping her broken home in favor of a college education, organized and in-control Ella is finally getting her life on track. But by leaving her past behind, she also had to say goodbye to her first love, Micha. When Ella returns home for the summer, she'll have to face not only her dysfunctional family, but the only guy who has ever made her lose control. Today author Jessica Sorensen shares not only The Secret of Ella and Micha, but something she has in common with the characters of her New Adult novel. Plus, we offer readers an excerpt from the story at the end of this post.

It's probably not a surprise that I'm a car person. In The Secret of Ella and Micha, the main characters Ella and Micha both have a passion for fast cars. It's a passion I've had since I was thirteen, even though I wasn't old enough to drive yet, but I thought about it all the time. I couldn't wait to get behind the wheel and drive a car of my very own, one that had a lot of horsepower and could take me places I'd never been before.
I blame a lot of it on the fact that I spent most of my time around guys who like to chat about classic cars, how they could make them faster, and which models were the best. Like Ella, I didn't have any sisters and I had only a few friends that were girls so I didn't get much of a break from listening to car talk. Not that I hated it. In fact, I loved it. I dreamt of having my own classic car and envisioned it being a lot like Micha's 1969 Chevy Chevelle, black with a cherry red racing strip down the center. In my head, I would picture myself behind the wheel, flawlessly curving around the corners and going anywhere I wanted to go. Of course, I ended up with a car a lot less fancier then Micha's. My very first car was a 1985 Pontiac Firebird. It was really beat up; the paint was peeling away, the seats were torn, and the radio had been torn from the console. But it was mine and it ran, and that was all that really mattered to me.
The very day I turned sixteen, I got my driver's license. After that, I spent every moment I could behind the wheel. I would cruise Main Street — which was a huge pastime in my small town — and pretend that my car was a lot faster than it really was. It gave me a sense of freedom and sometimes I would just drive for fun or just to take a break. I even had a name for it, The Beast, which I still call my current car.
I love the fact that in The Secret of Ella and Micha readers can get a small insight into something that I love (yes, I still have the same passion). Plus, it gave me the opportunity to create my perfect car, the one that I always dreamt about having when I was younger.
Happy Reading!
- Jessica Sorensen
Click here to read an excerpt of The Secret Life of Ella and Micha. You can pick up your own copy, available digitally now and in print March 26. For more genre news and coverage visit our Everything Young Adult Page.