Jim C. Hines On Fire Spiders, Ponce De Leon And Libriomancer - With Giveaway!
Wed, 08/08/2012 - 10:00am — admin
I originally found out about author Jim C. Hines after coming across a few of his blog posts where he recreated cover model poses from fantasy and romance covers (which you can see here and here). After laughing uncontrollably, I figured someone with this much imagination must write some great stories. I got my chance to read Jim's books with Libriomancer, a fantasy tale that follows Isaac Vainio, a Libriomancer with the power to conjure fictional items from books, bringing them to life. The book was an absolute delight and stuck with me for days, but left me with a few questions that Jim has kindly agreed to answer. And to help spread my love of this story, readers can enter to win their own hardcover copy of Libriomancer at the end of this post!
***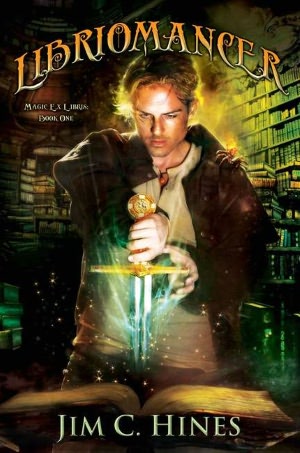 Libriomancer kicks off your new Magic Ex Libris series, which explores a secret society, started by Johannes Gutenberg of Porters. Members can conjure fictional items from books, bringing them to life. The series began with a short story from your Goblins universe about a mischievous fire-spider. How did the story grow to become Libriomancer?
Long ago, in an underground room somewhere in Chicago, the air smelling of potato chips and veggie dip, an editor named Kerrie Hughes said to me, "Thou shalt write for me a story of Smudge the fire-spider, and thou shalt set it in our world! Go forth, and may the words flow like runny ketchup dripping from a hot dog!" Or words to that effect.
I came up with the idea of libriomancy to get Smudge out of the goblin books and into our world, and from there, the possibilities just took over my brain. Part of the joy of writing the book was getting the chance to play with so many more ideas, and to explore the implications of books being literally magical.
This book follows Libriomancer Isaac who has been exiled to working in a library, but forbidden from practicing magic. He soon realizes he is one of the few Porters left in the Midwest after vampires start killing off the organization's members. Can you explain a little bit about how Isaac deals with going from being cast aside by his peers to being the Porters' last hope?
One of the people the vampires kill is Ray Walker, Isaac's friend and mentor in the Porters. This is the man who introduced him to magic and taught him how to use it. Once Isaac learns about Ray's death, there's no stopping him. It's very personal, both because he wants to solve his death, and because Isaac is completely unable to resist a mystery and the chance to learn something new about magic.
Ponce de Leon plays a prominent role in guiding Isaac through his issues with the Porters and sticky Libriomancer politics. Of all the historical characters to choose for this role, why Ponce de Leon?
I needed someone who was more-or-less a contemporary of Johannes Gutenberg, and the mythology of the Fountain of Youth allowed me to slip de Leon into the story in a way that wouldn't raise too many eyebrows.
Lena, Isaac's dryad partner and romantic interest, is a phenomenal heroine. She's strong, curvy, a woman of color and although she faces some issues regarding her identity, since as a dryad she's bound to her lover, she is also pretty independent. What was your inspiration for crafting this character?
Thank you! The ideas at the heart of Lena's character are things I've been working with for years. I have an unpublished novel called Hamadryad I wrote a decade ago about a dryad living in Michigan's Upper Peninsula, but it was a very different book: much more serious and intense. (And to be honest, a bit of a mess, plotwise.) She's shown up in various forms since then. There's a dryad named Captain Hephyra in the princess books who captures a lot of Lena's strength and sexuality. I wrote a short story called "Heart of Ash" that explored the idea of a dryad whose identity is bound to her lover.
I was driving up north earlier this year and stopped in Munising, Michigan. As I was walking to the falls, I saw a small tree growing out of the side of a sandstone cliff. I stopped and stared at it for a while, because that strength embodies a lot of the reason I keep writing dryad characters.
In the Libriomancer universe, many books that contain extremely dangerous artifacts and were "locked" by Gutenberg to prevent them from getting into the wrong hands. What do you think is the most dangerous book that could be used for mining magical items?
Oh wow, that's a tough one. Any "magic wishes" book could pretty much destroy the world. The artifacts in the Dungeons & Dragons handbooks and similar RPG tomes could do a lot of damage too. I suspect the most dangerous book is going to depend on the creativity and imagination of the libriomancer using it.
If you were a supernatural creature in the Libriomancer universe (vampire or otherwise), what would you be and what fictional item would be responsible for your demise?
You know, it might be fun to be Sanguinarius Meyerii (better known as "sparklers"). They have all of the vampire superpowers and almost none of the weaknesses: no burning up in sunlight, no vulnerability to garlic, etc. As for my demise, I have no idea what you're talking about. Once I get this kind of power, I'm planning to live forever. It's the only way I'll catch up on my reading!
Of course I have to ask, if you could conjure any item from a book, following Libriomancer rules, what would it be and what would you use it for?
A part of me would want to go straight to the Star Wars books in my library and grab myself a lightsaber. The problem is that, keeping to the rules of Libriomancy, I'd end up with a really nifty weapon and no way of recharging it once its power ran out. Maybe the sword Woundhealer from Fred Saberhagan's books, which gives you the power to heal and cure anything. I could cure my diabetes and get off the insulin pump, then go into business healing the whole darn world. Plus it would probably make it a lot easier when I have to help my son with a splinter.
Libriomancer stayed with me for days, and gave me a "book hangover" that took a while to get over. Can you give any hints as to what readers can expect from book two in the series?
I'm still working on the details, but you can expect to see a lot more of Lena. Book two will explore her character and abilities in some new ways. There are new Porters as well as a few familiar faces from book one. We'll also see the return of—no, wait. I can't say that without spoiling the first book for the readers.
I have some ambitious goals for this series. I'm a little anxious about whether or not I can pull them all off, but I'll be looking into the history of libriomancy, and the consequences of things Gutenberg and the Porters were involved with centuries ago. And of course, Smudge will continue to be the world's most awesome spider.
If all goes well, it will be intense, messy, and a lot of fun.
***
GIVEAWAY ALERT: One lucky reader will win a hardcover copy of Jim C. Hines' Libriomancer. To enter, comment on this post telling us what item you'd conjure up out of a book if you were a Libriomancer. You can also e-mail your answer here along with your mailing address, with the subject line "Libriomancer Giveaway." U.S. mailing addresses only, please. The winner will be announced August 17.
BLOG UPDATE 8/17/2012: The winner is Sarah Rice! Thanks to all who entered.
You can pick up a copy of Libriomancer, available in stores now! For more out of this world reads, visit our Everything Science Fiction & Fantasy Page!