Jo Beverley On Her Many Memorable Heroes (And Which One is Her Favorite)
Mon, 04/26/2010 - 3:27pm — admin
Historical author Jo Beverley on falling in love with all of her heroes.
Asking an author to pick her favorite hero is a form of torture, you know! Every time I write a book, I fall in love with my hero. I have to, don't I? But then, I'm only human and so are they, so I do have some who are a little special to me.

First, Nicholas Delaney, from An Arranged Marriage. Though that wasn't my first published book, it was the first one I wrote, so he's My First Hero. Perhaps all authors weave something special into their first hero. Nicholas isn't to everyone's taste because he is a little different and I created an extremely difficult situation for him, but he has the intelligence, subtlety, honor and kindness that I love, as well as being gorgeous and sexy.

Next, Rothgar. When I wrote the first of my Georgian romances about the Malloren family, I intended the head of the family, the Marquess of Rothgar, to be formidable, but I didn't expect the man who strolled into an orgy in My Lady Notorious and said, "Your fate has arrived…" He wasn't talking to me (I don't think. In the odd world of the fiction writer, stranger things have happened!) but he might as well have been. I was so potent a character that I seriously thought of cutting him out of book, but that wouldn't work. By some magic, even though he was unforgettable, the book withstood the strain. I always intended to work up the family to the oldest, so I didn't do it to torture my readers for nearly ten years until his book, Devilish, came out.

I really do go for powerful men who accept their responsibilities and use their power well, so for last I'll pick Thorn, from The Secret Duke. I had one other duke as hero – Tris Tregallows in St. Raven, but he'd come late and somewhat rebelliously to his rank. Because I wanted a completely ducal duke, I had Thorn be Duke of Ithorne from birth, his father having died some months before. He's shaped by never having been anything but one of the highest ranked people in the land. Also, and also part of my plan, a duke outranks a marquess – such as the Marquess of Rothgar. I enjoyed someone who is deliberately challenging Rothgar for power and influence, and from a place of distrust rather than admiration. However, where I matched Rothgar with a women of high rank and power, I gave Thorn a real thorn in his side. Bella Barstowe is trouble for him from page one. Literally. Thorn meets her when he's escaped his responsibilities as duke into his alter ego – Captain Rose of the ship The Black Swan.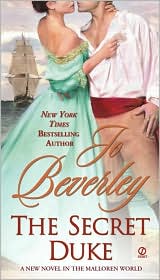 Visit Jo Beverley's website to learn more about her heroes.