Jodie Griffin Shares Her Favorite Erotic Titles Featuring Dominant Heroines
Tue, 12/18/2012 - 11:56am — admin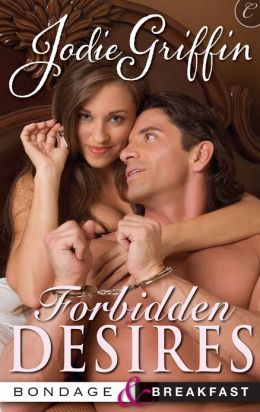 It's no secret that a lot of BDSM erotic romance features dominant heroes and submissive heroines. But what about readers who want their women a little more assertive and their men eager to please? In author Jodie Griffin's latest release "Forbidden Desires," Bella has recently discovered her dominant side after ending her relationship with a man who insisted that he be the one in charge. After meeting submissive paramedic Marcus, Bella thinks she's finally found her match, but the new roles may take some getting use to. We wanted to learn more about the author's interest in stories with dominant women and submissive men so we asked Griffin to share some her favorite titles featuring lady Dommes:
Kink is in. 
It's no secret to anyone these days, but people really like to read about sex, and if it's kinky sex? Even better. Add in some rope, a flogger, safe words and a hot guy calling a woman Mistress, and...  
Wait, what? Did she just say Mistress? 
Yes, yes I did. 
The majority of books with characters who practice the Domination/submission aspect of BDSM tend to be male dominant (Dom), female submissive.  But there are a growing number of books out there with just the opposite: female dominant (Domme), male submissive. 
There's an assumption floating around that submissive men are weak, or doormats. What real man would let a woman take control in the bedroom, after all? But the exact opposite is true.  Submission requires strength — of will, mind, and body — and that's true whether you're a male sub or a female one.
Joey W. Hill is one of my favorite authors. Not every femdom story she writes is traditional Domme/sub, and I love her writing because she portrays people as people, not as caricatures. My favorite book of hers is Natural Law, which includes what many would consider a typical Domme/sub relationship. Mac is alpha through and through … except in the bedroom. And to Violet, the need he has for submission isn't a weakness in any way. It's what she wants in a man. She wants Mac for what he likes, not in spite of it. 
In her Vampire Queen books, she also has strong female dominants, although in these stories, the men submit, but they're not submissives. They submit to their Mistresses out of a bone-deep sense of duty more than an innate need to give themselves over to a woman, but it takes nothing away from the female dominance.
There are quite a few other Joey Hill books featuring female dominants, male submissives. Holding the Cards features another traditional Domme/sub pair. Ice Queen and Mirror of My Soul feature Marguerite, who is a Domme to male submissives, but who is also submissive to one very specific male dominant, Tyler. In other words, she's a switch, gaining pleasure from both domination and submission.  
I loved the idea of a Domme also being a submissive, and it sparked the idea that eventually became my latest Carina Press release, "Forbidden Desires." At first, Bella believes she needs to be in control all the time to have a happy relationship — until she meets Marcus, a man who likes to submit, but not all the time. And because people don't come with a set of standard operating guidelines, I wondered what would happen if both partners in a relationship had both dominant and submissive desires — for each other. I decided to play with it, and I made them both switches. No, they don't fit a typical dominant/submissive mold, but one size does not fit all, and one kink does not fit all, either. This is a story about learning to embrace who you are and what you have to offer the person you love.
Most of Joey Hill's books are intense BDSM books, but there are also ones that take a more playful tack in the whole domination/submission arena. One of the lighter stories I've enjoyed with a female dominant and a male submissive is Megan Hart's Unwrapped. I also loved Christine d'Abo's Training the Dom, which isn't a classic Domme/sub story, but one where a submissive takes control, with her Dom's consent, and teaches him what it's like to be on the other side of the restraints. 
Whether you're looking for intense scenes or lighter play, from full-on Domme/sub to switches to doing a one-time role play, there are books out there for every reader. 
- Jodie Griffin
You can download a copy of "Forbidden Desires," available from online e-book retailers now! Do you have a favorite erotic romance that features a female dominant and a male submissive? Share it in the comments! And for more steamy reads visit our Everything Erotica Page!