Julia Quinn On Her Famous Bridgertons (With A Deleted Scene)
Thu, 04/25/2013 - 11:08am — admin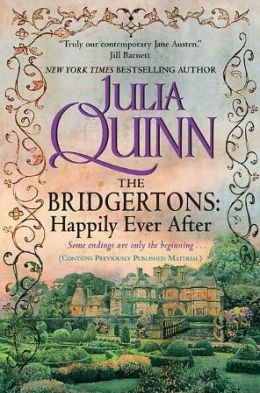 Readers have a million reasons to love Julia Quinn's novels including witty dialogue, independent heroines and engaging heroes. But there is one reason why Ms. Quinn will always hold a very special place in our hearts (and on our bookshelves) and it can be summed up in just three words — the Bridgerton family. One by one the author found Regency siblings Anthony, Benedict, Colin, Daphne, Eloise, Francesca, Gregory and Hyacinth their perfect someones. But the stories don't stop there. Quinn continues to delight her fans by letting us know what happened to our favorite historical romance characters after-the-fact with second epilogues for each of the Bridgertons. In the author's new release, The Bridgertons: Happily Ever After, Julia shows how true love matures into lifelong commitment. Who can ask for more? Well, we can, and did. Below is a deleted scene told from the point of view of Violet Bridgerton, the matriarch of the family. But first, the author describes her feelings towards the "fierce" Bridgerton mother.
***
Readers often ask me to write the love story of Edmund and Violet Bridgerton, and while I think that would be lovely, it would also be far too bittersweet. Edmund dies young, at 39, and I just don't think I could immerse myself in their romance, knowing what was to come.
But I've always wanted to "meet" Edmund, and when I gathered the Bridgerton 2nd Epilogues together into The Bridgertons: Happily Ever After, I knew I had finally found the perfect way to do so. I added one more story: "Violet in Bloom." It is less a novella than a series of vignettes, showing Violet's life from childhood to old age. 
I wanted to include something from the time she was trying to get all of her children married off, and I've always loved her fierceness in An Offer from a Gentleman when she goes toe-to-toe with the Countess of Penwood (and emerges very much the victor). I decided to write the scene from her point of view, but in the end it felt out of place among the other scenes of her life.
The scene was actually quite long. I hope you enjoy the first part of it here. The rest can be found on my website here.
Warmly, 
JQ
***
There was nothing worse than being forced to accept the unhappiness of one's child.
When they'd been small, Violet reflected, she could almost always make everything right again. A kiss on a skinned elbow, a stern talk about the importance of studying for exams... She'd known what to do, and more importantly, she'd known how to do it.
But when her child wasn't a child any longer, and his happiness lay so tightly in the palm of someone else's hand...
She looked up at Benedict — her second son, the one who looked so breathtakingly like his father — and in the space of a second, she saw his heart break.
"What do mean, she's gone?" he demanded.
Violet swallowed. The day before, Sophia Beckett, their recently-hired lady's maid, had resigned her position. Violet hadn't wanted her to leave; she was a lovely young lady, honest and honorable, with a innate sense of kindness that, sadly, few possessed.
But it was obvious that she and Benedict had tender feelings for one another. And if Sophie had felt that she had to leave to protect her honor, Violet could not stand in her way.
"Just that, I'm afraid," Violet told her son. "She's gone."
Benedict stared at her in disbelief. "And you just let her go?"
"It would hardly have been legal for me to force her to stay."
"Where did she go?" he instantly asked.
"I don't know. I had insisted that she take one of our coaches, partly because I feared for her safety but also because I wanted to know where she went."
Benedict slammed his hands on her desk, causing her to jump in her seat. "Well, then, what happened?"
"As I was trying to say, I attempted to get her to take one of our coaches, but it was obvious she didn't want to, and she disappeared before I could have the carriage brought 'round. I had assumed," she added, as delicately as she was able, "that the two of you had had a falling out."
"Oh, Jesus," he muttered, raking his hands through his hair. Violet had never seen him so distressed. The agony in his eyes hurt. She felt it in her chest, a mother's pain for her son.
Then, astoundingly, he said, "No lectures on blasphemy just now, Mother. Please."
"I wouldn't dream of it."
He closed his eyes for a moment. "Where am I going to find her?"
"I don't know, Benedict. I wish I did. I quite liked Sophie."
It was true. And in another world, nothing would have made her happier than to see them wed. But Sophie was a lady's maid. And Benedict was the son of a viscount. Violet wouldn't have stood in the way of a match, not if it was truly what Benedict wanted, but if they married...
It would be hard. Society was rarely kind to rule-breakers.
"She's Penwood's daughter," Benedict said suddenly.
"I suspected something like that," Violet murmured. It had never quite made sense that Sophie was the daughter of servants. She spoke too well, even for someone who claimed she had been allowed to take lessons with her mother's employer's children. And the other day Violet had heard her muttering in Latin.
She looked up at Benedict. "Illegitimate, I assume?"
He nodded.
Violet opened her mouth to speak, because a spark of hope had begun to flare in her heart. There might be a way to make this work. It would still be difficult. Both of them would have to want it — truly, madly, from the bottom of their hearts. They would have to love each other in a way that disdained society, threw caution to the wind, and—
Whatever else she might have been thinking flew from her mind. The door to her office came flying open, slamming against the wall like an explosion. Francesca, who had obviously been running across the house, skidded into the room, crashing into Violet's desk, followed by Hyacinth, who crashed into Francesca.
"What is wrong?" Violet asked, rising to her feet.
"It's Sophie," Francesca panted.
"I know. She's gone. We—"
"No!" Hyacinth cut in, slapping a piece of paper down on the desk. "Look."
Violet saw immediately that it was a copy of Lady Whistledown's Society Papers. She snatched it up before Benedict could get to it and read, her heart sinking with every word.
La, but such excitement yesterday on the front steps of Lady Bridgerton's residence on Bruton Street!
Something about the Duke of Ashbourne, something about Penelope Featherington... Violet skipped ahead, impatient to get to the pertinent section.
... a woman was accosted right in front of the townhouse by the Countess of Penwood, who lives three doors down. It seems the woman, who This Author suspects was working in the Bridgerton household, used to work for Lady Penwood. Lady Penwood alleges that the unidentified woman stole from her two years ago and immediately had the poor thing carted off to jail.
This Author is not certain what the punishment is these days for theft, but one has to suspect that if one has the audacity to steal from a countess, the punishment is quite strict. The poor girl in question is likely to be hanged, or at the very least, find herself transported.
"What is it?" Benedict whispered.
She handed him the paper, unable to give her feelings a voice.
"Jail?" he said, the word barely more than a breath.
"We will see her released," Violet vowed.
But Benedict was already out the door.
"Wait!" she yelled, dashing after him. "I'm coming, too."
He stopped short. "You are not coming. I will not have you exposed to—"
"Oh, please," she returned. It was sweet that her boys wanted to care for her, but she could be quite useful in such a situation. "I am hardly a wilting flower. And I can vouch for Sophie's honesty and integrity."
"I'm coming, too," Hyacinth announced, skidding to a halt alongside Francesca, who had also followed them out into the upstairs hall.
"No!" Violet wasn't sure who said it louder, she or Benedict.
"But—"
"I said no," she snapped.
Francesca let out a sullen snort. "I suppose it would be fruitless for me to insist upon—"
"Don't even finish that sentence," Benedict warned.
Violet almost smiled. She hoped that someday he had daughters. He was going be a good father. 
"If you want to go, we leave immediately," he said to her.
Violet nodded. Ten minutes later, they were on their way.
You can finish reading this deleted scene on the author's website here. For more Julia Quinn goodness, The Bridgertons: Happily Ever After is available online and in stores now. And for more madcap historical romps, check our our Everything Romance Page.