Juliana Gray Tells Us How To Tame A Duke In 5 Easy Steps - With Giveaway
Tue, 06/04/2013 - 2:57pm — admin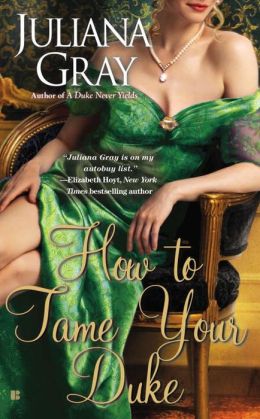 Last year author Juliana Gray debuted with A Lady Never Lies, which took home the RT Reviewers Choice Award for Best First Historical Romance. Juliana is once again wowing audiences with her latest book How to Tame Your Duke. In the story, unconventional heroine Emilie is hunting for the mastermind behind an assassination plot. Her travels take her to a barroom where she meets the handsome Duke of Ashland. Unaware of her true identity (she is a princess!), the duke takes Emilie to his home thinking she will make a perfect tutor for her son. But instead Emilie schools the duke about the power of love. And just how does she go about taming her duke? Today the author shares with us five fool-proof tips for getting your guy with a giveaway at the end of the post!
It never fails. At last, you meet the duke of your dreams — handsome, towering, mysterious, in possession of a large house with the word "Abbey" in its name — and it turns out he has ... well, a few rough edges. A certain unwillingness to tender his heart into your capable hands. A propensity to avoid social contact and snarl at intruders. Punching bags in the basement, that sort of thing.
In short, he's a bit of a beast.
Never fear. After all, every man needs a bit of taming, or where's the fun? Gather up your composure, tilt your chin upward — yes, a touch to the right, show off that imperious cheekbone — and follow these five handy tips for turning your own fire-breathing duke into a devoted lover and a civilized gentleman. (Well, most of the time.)
1. Cultivate an air of mystery. Perhaps your duke has been languishing in his magnificent mansion for many years, hiding from the world, immersing himself in the management of his estate. He might be a little bored. Enter his lair in disguise, as a tutor for his teenaged son, to conceal the fact that you're really a princess of noble blood escaping her enemies. Reply cagily to his questions about your background and family. In fact, try doubling down: Meet him secretly in another disguise altogether, wear a blindfold, confess that you can't resist him, and then refuse to tell him your real name. He'll be so captivated by your layers of enigma, he might just break down and reveal a little bit about himself.
2. Make yourself scarce. There's a reason that first small plate is called an appetizer: It whets your desire for the main course. Limit your secret meetings to once a week, for an hour or two only, and feel free to arrive late when danger pursues you. Before long, your duke will move heaven and earth to see a little more of you. Or even a lot more of you.
3. Win over his servants and family. Let's go back to that teenaged son you're tutoring. Your duke loves him more than anything in world, doesn't he? And the servants: Any master worth his salt knows to keep his staff happy. So cultivate these relationships. Find out what his adolescent lordship is thinking behind that happy-go-lucky exterior. Let him know he can trust you. You might just find he's your most stalwart ally.
4. Let him come to your rescue, on occasion. Every man wants to be needed, and your duke is no different. Is a shadow organization of anarchists bent on assassinating you and your family, in order to achieve violet overthrow of your country's government? A duke with training in clandestine activities might just come in handy, and nothing forces that taciturn heroic type out of his shell faster than a bloodthirsty assassin emerging from the London fog to threaten the woman he loves.
5. Show kindness. After all, no man becomes a beast when he's known nothing but love and roses and twittering birds all his life. Does your duke wear a mask to hide his horrific war wounds? Did his beloved first wife leave him for another man? Consider drawing off that mask of his and kissing him, wounds and all. Maybe even allow him to untie your own blindfold, look into your soul, and kiss you.
And who knows? In the end, you might just discover that you've tamed each other.
- Juliana Gray
***

GIVEAWAY ALERT: Two lucky winners will each get a signed copy of How to Tame Your Duke. To enter, give us your best advice on how to tame a duke. Leave your comments below or email us here with the subject line "Juliana Gray's Duke Giveaway". Winners will be announced Monday, June 10. U.S. addresses only please.
UPDATE: The winners are Alissa Shields and Connie Fischer.
You can pick up a copy of How to Tame Your Duke, available now! For more historical romance visit our Everything Romance Page.