Julianne MacLean Aka E.V. Mitchell Talks About The Color Of Heaven
Thu, 02/24/2011 - 10:35am — admin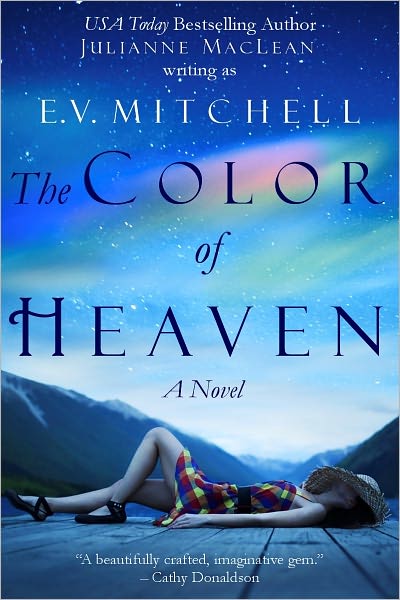 Author Julianne MacLean is best known for her historical romances. Recently, writing under the pen name E.V. Mitchell,  MacLean moved in a different direction with her mainstream novel, The Color of Heaven. The story follows heroine Sophie who is struggling to stay positive during her daughter's battle with leukemia. But when old secrets surface after a serious car accident, Sophie's world may never be the same. Now check out this author interview with Julianne MacLean about the process of creating her first novel as E.V. Mitchell.
***
The main character in The Color of Heaven, Sophie, is a writer. How much of your own experiences as an author went into creating Sophie's character?
A tremendous amount of this book is based on my own life, starting with Sophie being a writer. Our experiences were very much the same, in that I have worked at home while trying to balance the writing with motherhood. My husband was always very supportive, and when my daughter was a baby, he would take her on Saturdays to visit his parents, giving me some time to write, which is exactly how Sophie gets started.
Later, toward the end of the book, she is trying to sell a novel, meeting with rejections, and I've been there, done that. It took me six years before I got "the call" that Harlequin wanted to buy my first book. (Although it wasn't a phone call. I was face-to-face with my future editor at a conference cocktail party when she sprang it on me and I think I hugged her.)
Another element that is from my own life is the car accident. I skidded off a road and rolled down an embankment when I was twenty-five years old. I am still amazed that I survived it, because it was a pretty horrendous wreck.
In The Color of Heaven Sophie's daughter is very sick. How much research did you have to do about medical issues, and what sorts of resources did you use?
The emotional side of that difficult period in Sophie's life again comes from my own experiences. My daughter was very ill with Hemolytic Uremic Syndrome when she was two-and-a-half years old, which is a blood disease and very similar in many ways to the treatments that Sophie's daughter receives. I spent six weeks living in the children's hospital and going through some very difficult times when we weren't sure our daughter would survive. There are some moments in the book that are almost exact, and they were difficult to write.
I did have to do a fair amount of research, however, into the science of it all – treatments, medications, etc – and that was a bit painful, to be honest. There were days when I cried while I was researching, and wondered what the heck I was doing, and why I was putting myself through that.
My husband is a doctor, so he was helpful with some things, but a lot of my information came out of an excellent book on the subject called Childhood Leukemia by Nancy Keene. It was very thorough from the medical side, and also included personal accounts from families who shared their experiences.
The Color of Heaven includes references to heaven without talking about God or Hell. Was this a conscious choice to make the book more accessible to readers of all faiths, or did this have personal meaning to you?
No, it wasn't a conscious choice. It was just the way the story came out. When I first conceived of it six years ago, I didn't imagine it being religious in any way, and it didn't even dawn on me that it could be categorized as a Christian novel – and I still wouldn't call it that. I did a lot of research on near death experiences, and it's not something that is singular to any one faith. I read about the science of it, and I also read The Tibetan Book of the Dead, which is quite beautiful in places. When my agent suggested selling it to the Christian market (after all the regular fiction publishers rejected it), I was surprised and not sure that was the right place for it. Maybe it would have been, I'm not sure. All I know is that when we tried to sell it, some editors said they wouldn't know how to position it.
Why take on a different pen name for this book, and others, when you are so well known for your other books?
I struggled with that quite a bit. The cover art at first didn't have my Julianne MacLean name on it, but when I imagined my readers trying to search for the book, I knew they might not be able to find it. I wanted to be sure that they knew it was me, so we changed the cover. At the same time, the book is vastly different from my romance novels – in structure, voice, and genre conventions - so I wanted to make sure readers would not dive in to read it with unrealistic expectations. The wrong expectations can really spoil a book for some people.
How was the process of writing this book different (or similar) to writing your historical romance novels?
It was similar in the fact that I still sat at my dining room table with a pencil and notebook, writing longhand, and I got into my characters' heads in the same way, and used all my knowledge and experience as a writer to make sure I described things well and had realistic dialogue, and didn't use passive sentences, etc, etc.
It was different, however, in that I wrote large sections of it over a long period of time – 6 years – so I had time to percolate about the story elements, which is why it's not exactly linear. So many little plot points that I love came to me late in the game, and with my historicals, I am usually on a deadline so I have to plow ahead no matter what, and I don't have the option of putting it away for a year to let it sit. It's amazing how much can come to you when you look at your work later on with fresh eyes. (In case anyone is interested, I wrote the middle section of The Color of Heaven, with Cora and Matt first, and the research for those sailing scenes was a by-product of my research for Surrender to a Scoundrel, one of my historical romances that is set during the Cowes Yachting Week in Victorian England. I loved the sailing so much, I wanted to write about it again, and it seemed like the perfect thing for Matt and Cora.)
What is the next project you are working on?
My next three novels to be published are Scottish Highlander romances, under the name Julianne MacLean, so they couldn't be more different! They are quite steamy and there's some kidnapping and revenge, and some swashbuckling sword fighting, and the heroes are old school alpha male, beefy and rugged. You get the picture, I'm sure. I loved researching Scottish history for those books, and I can't wait for them to come out. The first two are back-to-back releases in March and April of this year, and the third comes out in October. It's been a busy year!
***
You can download your own copy of The Color of Heaven and then historical romance fans, mark your calendars for Captured by the Highlander, which will be released in March and Claimed by the Highlander, which will hit stores in April.