Julie Anne Long On Bringing Her Characters Together
Mon, 11/26/2012 - 2:58pm — admin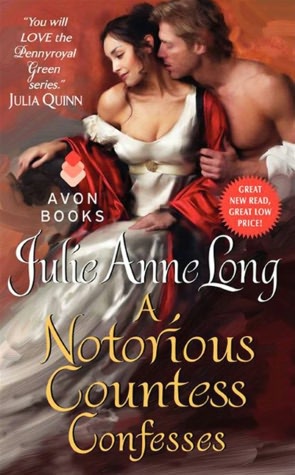 Julie Anne Long's Pennyroyal Green series continues with her latest release A Notorious Countess Confesses, the story of a vicar and a courtesan who are the perfect match. When Evie Duggan, aka "The Black Widow," moves to Pennyroyal Green after her husband dies, she meets vicar Adam Sylvaine. The former courtesan may be a challenge for Adam, both as a man and a servant of God, who becomes close to her while helping her get settled in her new home. Today, the author shares how she paired two seemingly opposite characters (one a saint, one a sinner) and crafted a perfect match:
"Courtesan. The word seemed to stretch languidly out on the table in front of them like a nude on a chaise. It was a voluptuous shock." — Reverend Adam Sylvaine first learns of Evie Duggan's past in A Notorious Countess Confesses
Vicar. Courtesan. Two words suggesting two entirely different worlds. But as it turns out, there's a fine line between sinner and saint. And in A Notorious Countess Confesses, that line is sweet agony for Adam Sylvaine, our vicar and alleged saint, and Evie Duggan, aka, our notorious countess, the sinner. And when they finally cross it (explosively) they'll irrevocably transform not just themselves, but an entire town.
It's human nature to assign categories to things: "Democrat" and "Republican." "Historical Romance" and "Paranormal Romance." "Hip Hop" or "Alternative." You get the picture. It helps us manage the ceaseless torrent of information we're showered with and gives us a sort of shorthand language with which to begin a relationship with something — we kind of know whether we're for or against it, whether it's for us or not for us. So when the notorious Countess of Wareham, the former Evie Duggan, moves from London to Pennyroyal Green following a spectacular plummet from grace, vicious gossip follows her. And all the villagers need to hear is the word "courtesan" to know they're against her. She'll be perceived as a willful sinner and shunned accordingly, and Adam knows it the moment he hears the word attached to her name: "Spiraling out from the word was a world of moral chaos, a demimonde that encircled God-fearing people like wolves outside a paddock of sheep. At least that's what how many of his parishioners would view it."
But he can't shake the word once he hears it: "…the very word conjured exotic realms of pleasure.
He was far too long overdue for pleasure. That was the trouble."
Who are the villagers unequivocally for? Well, Adam, of course. For Adam is a saint. At least as far as his parishioners are concerned — and certainly by contrast to his wild Eversea cousins, who are of course personally, if not intimately, acquainted with Evie from her days in the theater. His entire way of life depends on his behavior remaining faultless, and so it is. He's worked hard to earn their trust and he cares deeply about his job and everyone in Pennyroyal Green. 

But he wasn't born a saint. He's a red-blooded man with a feisty sense of humor, a preternatural confidence, and an indomitable will. And he's all-too conscious of being watched every moment. "Your handsome flesh, my dear boy, seems rather an amusing test of a vicar. Good luck controlling those urges, I say, should the right temptation present itself," his ancient parishioner Lady Fennimore says to him.
Enter the right temptation in the form of the beautiful Evie, who reminds him of just how lonely he is, how austere his life has been, and who quickly shows him just how consuming desire can be, especially for a man who has denied himself pleasures of the flesh for so long.
All Evie wants is an opportunity to begin life anew, as something other than a commodity for wealthy and powerful men. Far from being repentant, she's pragmatic and unapologetic about her past and the choices she's made in life — the only ones she could have made at the time. Adam is understandably wary of her motives — she at first tries to flirt herself into his good graces — but the vulnerability he senses in her intrigues him. And as she enlists Adam's aid in helping her to make friends with the women of the village, he discovers in her qualities he admires fiercely: a matter-of-fact resilience, a tenderness with children, a natural authority, a fearlessness and innate kindness, a willingness to work hard, a passion to protect those she loves equal to his own.
And though she at first tries to dismiss him as just a "country vicar," she realizes he may, in his own way, be the first truly powerful man she's ever met, the first man who truly sees her. Their mutual desire is soon incendiary, but succumbing will mean their ruin. And yet they're powerless not to risk it.
It is left to the villagers of Pennyroyal Green to decide whether they can allow their sainted vicar and the "fallen woman" they've taken into their bosom can be seen not for her perceived sins, but as humans.
Taking Adam and Evie on this journey was a pleasure for me as an author, and as much an emotional roller coaster for me as it seems to have been for readers, many of whom have told me they wept through the entire last scene.
And not to give anything away, but in the end, there are no saints and there are no sinners … there is only love. 
- Julie Anne Long
You can pick up a copy of A Notorious Countess Confesses, available in stores now. For more romance visit our Everything Romance Page.