Julie Kagawa On Her New Series, Movie Deals And Her Next Book
Fri, 02/15/2013 - 11:33am — admin
Author Julie Kagawa is one busy woman. The Iron Fey writer is in the middle of her second series, the popular Immortal Rules saga, and has just announced plans for a third series, set to kick off in 2015! And fans will not only be getting more books from this author, but the movie rights to all of Kagawa's series have been sold. Naturally, we wanted more info about these exciting projects, so we asked the author for some exclusive details about what we can expect next. 
Your new series, launching in 2015, has just been announced. This project is top secret (we don't even know the name of the series yet). What information can you share with our readers?
Right now, all I can share is that the story is set in the present day, in a little coastal town on the beach, and that "mythical creatures" hide among us cloaked as humans. But I'm really excited for this story, and I can't wait to reveal more.
Like your first series, the Iron Fey books, your newly announced series also includes mythical creatures. What draws you to writing paranormal YA?
I loved reading fantasy as a kid (and as an adult), so the stories that shaped my childhood and influenced me the most had elves and orcs and dragons and unicorns, and those were the books that stayed with me. As an author, I'm constantly wondering what would happen if these fantastical creatures existed in the present day. How would they live, and how would the world evolve around them? I also just love writing YA. I Iove writing about teens, so mixing YA and paranormal is the perfect blend for me.         
Although the new series isn't releasing for a while, it's already been optioned for film. Congratulations! But this isn't the only film deal you have. The film rights to your Blood of Eden series was also sold. Do you have a dream cast for any potential Blood of Eden films?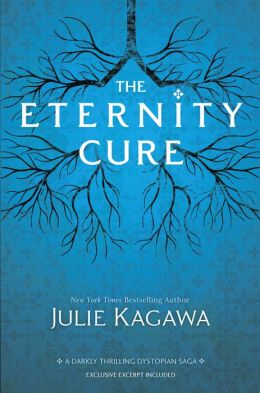 Yes, The Immortal Rules has been picked up by Palomar Pictures, too. And I am sooooooo bad at casting, lol! Ben Barnes as Ash is my only consistent dream actor. Others have suggested Devon Aoki or Malese Jow for Allison, Zac Effron for Zeke, and Ryan Gosling or Ian Somerhalder for Kanin. They all look great to me, but like I said, I'm bad at this. (Though Ian Somerhalder can be Kanin anytime. He's already got the badass vampire thing down pat.)
If there was one thing from your Iron Fey series that you hope is preserved when it is adapted into film, what would it be?
The creepy etherealness of the Nevernever. The setting in the Iron Fey series is probably the most important element of the books, and if the series did get made into a film, I hope they would do the Nevernever justice.
The Blood of Eden series second, The Eternity Cure, releases in May. What's in store for readers in your next release?
Well, Allison will run into old friends, old enemies, and will uncover a plot that could destroy everything she knows. She will face some very hard choices, encounter sacrifice and heartbreak, and will have to decide, once and for all, what kind of monster she is.
Which Julie Kagawa project are you most excited for? Let us know in the comments! For more genre news and coverage visit our Everything Young Adult Page.